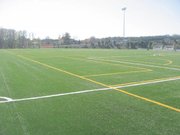 Community sports groups will experience a little relief from the growing pressure of shrinking available field time in the county on Nov. 3. That's when Fairfax County officials cut the ribbon of the brand new Patriot Park, home to the county's largest installation of artificial turf to date.
The first phase in the creation of the brand-new park, designed as a tribute "to the remembrance of those who have fallen while providing patriotic service to the residents of Fairfax County and country," cost $3.8 million and features an artificial turf field measuring 420 by 230 feet, according to a county press release.
"This is a program that we had been pushing for several years," said Judy Pedersen, public information officer for Fairfax County Park Authority. "It's always hard to find undeveloped property of this size with just flat land in the county, and we wanted to take advantage of this."
Part of a two-phase project with a final estimated price tag of $22 million, the park, a 97-acre plot of land located adjacent to the Mott Community Center at the corner of Braddock Road and Fairfax County Parkway, now includes a parking area, bleachers, site landscaping, lighting and a perimeter trail. Future visions of the park that have not yet received funding include three lighted 90-foot baseball diamonds, three adult-use artificial turf playing surfaces and restrooms, along with other improvements the release added.
THE INTRODUCTION of the playing fields at Patriot Park to the southern part of the county comes amid diminishing field conditions and growing demand for playing time from a number of different community groups, according to Jesse Ellis, supervisor for Community Recreation Services.
"There are so many people playing and the need for usable fields just keeps growing," Ellis said. "Since there are so few fields and so many players, the ones we have are just getting pounded and are really unusable after a while."
Growing popularity in recent years of field hockey, lacrosse and rugby have created a higher demand for the rectangular fields featured at Patriot Park, he added.
Recognizing the growing demand for fields was what initially led the county to purchase the land for the park from the Virginia Department of Transportation, George Mason University and some private landowners in 2001 and 2002, according to Pedersen.
"When we first saw this land, we thought, 'Hooray, park, park, park,'" said Fairfax County supervisor Elaine McConnell (R-Springfield). "If we were going to keep up with this demand, then we need to keep things moving."
McConnell and her staff met with Fairfax County Parks and Recreation staff and spearheaded the initiative to place a park on the site due to the "incredible demand" in the area for parks, she said.
WITH A PLAYING surface made entirely of artificial turf, the field will be safely usable much longer than natural grass and can be used all year round, as well as during rain and light snow, according to Pedersen.
"You can play these fields more than you can a grass field because they require less maintenance than a grass field," she said. "You don't need to seed it. When it rains it doesn't turn it to mud. It just takes less effort to keep the surface playable, and that keeps more people playing more often."
And the fact that the field can remain as one large playing area or be split into three "micro-fields," adds to its versatility, Pedersen added.
More than 40 sports groups have already requested time on the fields of Patriot Park, double the number of total requests of surrounding fields last year, Ellis said.
"We're getting a lot of requests already for it," he said. "The word is out and I think that a lot of the sports groups are very happy about these fields opening."
A representative of one of those groups is Mark Fialkow, field scheduler for the Burke Athletic Club youth soccer program.
"The coaches and the kids on our club are ecstatic about this," Fialkow said. "This is the first time in years that we have had a … usable playing field that we can use for home games."
THE FIRST PHASE of Patriot Park cannot be the only effort made to bring these types of fields to county residents and their children as the growing demand is not expected to slow anytime soon, said Pedersen.
"Anytime that you can find a way to provide new recreational facilities where there is a great demand and a great need for them, you definitely feel good about it," she said. "There have been a lot of people who stood up to say Patriot Park is the right place at the right time, and they wanted to see it happen and they made it happen."
While funding has not been allocated as of yet for phase two of the project, the closest opportunity could be when a new park bond program is considered for 2008, according to Pedersen.
"There's a lot of competition for the dollars in that bond and we're not exactly sure if we can get it in there, but we're hopeful," she said. "We continue to see a need for it and we're going to work for it."