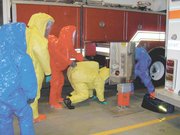 For the first time, firefighters from Loudoun and Prince William counties are teaming up for hazardous materials training under the guidelines of the Virginia Department of Emergency Management (VDEM).
Nine Prince William County firefighters joined with 15 Loudoun firefighters at the South Riding fire station, Fire Station 19, for this two-week class. Six instructors from both jurisdictions and two state instructors from VDEM helped with the training. Thursday, Oct. 25, they began acclimating themselves to the hazmat suits.
"The students are doing well and they're getting used to the hazmat suits and the knowledge they need to perform as a hazmat technician," Capt. Wayne Anderson of Fire Station 19 said of the training.
THE CLASS DIVIDED into two halves to become acquainted with the two different types of hazmat suits. Half of the class practiced with level A suits, which are completely encapsulating and have their own air supplies inside. Anderson said, these suits offer the highest level of protection, guarding against splashes and vapors. The rest of the class practiced with level B suits, which provide less protection, guarding from splashes but not so much from vapors.
After each team of students had adequate time to work with their respective suits, the two teams swapped suits so they all got time with both suits.
The first two days of training consisted mainly of classroom training time with Glen Rudner, Region I hazardous materials officer for VDEM. For the rest of the two-week class, the trainees will spend each morning in the classroom and each afternoon conducting exercises to apply what they have learned. Each day is objective driven, however, and they stay until they are finished.
"We ain't done 'til the objectives are done," Rudner said, although he said the students have been successful so far.
"The students have been doing great," he said. "They're putting in a lot of effort each day."
Rudner also said the instructors have been working hard.
"It's good to have dedicated instructors assisting them," he said.
RUDNER SAID Loudoun and Prince William counties have both had prior working relations with VDEM and requested assistance in their communities. Rudner oversees Region I for VDEM, which includes 17 jurisdictions reaching from Northern Virginia almost to Richmond. VDEM helped by training instructors and personnel to a higher level. It also does not charge localities for assistance, which is important because, according to Rudner, it costs between $750,000 and $1 million just to set up a fire station to be ready for hazmat emergencies.
"By preparing the personnel, they will be able to respond to incidents with what is considered to be the highest level of professional qualifications," Rudner said.
Because of Sept. 11, 2001, and the rapid expansion of the counties' firefighting programs, Loudoun and Prince William decided to work in collaboration with VDEM.
"Since we've grown so fast, it necessitated that we partner with VDEM," Anderson said.
Until recently, both districts had used the guidelines of the International Association of Firefighters (IAFF). VDEM's hazardous materials response branch, which divides Virginia into eight regions, allows different localities to collaborate for everything from emergency response to training programs like this hazmat class.
Anderson said, this particular training is designed to turn the firefighters into hazmat technicians, which is the second of three levels of hazmat training and responsive and offensive in nature. This training will allow them to go into the source of a leak and try to mitigate it. The first level is hazmat operations, which is defensive in nature and the third level is the hazmat specialist level, which requires an expertise in handling specific emergencies and situations.
"The goal here is for us to have people who are thoroughly trained to handle most hazardous material emergencies," Anderson said.
MANY OF THE firefighters, like technician Mike Quinn, have had previous hazmat training under the IAFF, but this seemed to be a more difficult class, said Anderson.
"Going back through this course has been a great refresher for me and I'm sure everyone else," Quinn said.
Quinn said everyone at the South Riding fire station is a hazmat technician because the station houses the primary hazmat truck for all of Loudoun County. This means the firefighters at Fire Station 19 have to keep their hazmat skills sharp.
"We drill on something in hazmat every day," Quinn said.
Capt. Tom Denner of Prince William County said that since different jurisdictions started coordinating their training programs, it makes them a lot safer if they have to go into the field, especially since the material is taught by state standards.
"Since 9-11, regionalization has become a major part of what we do," Denner said. "We've become much more [effective] training with everyone else."
By using the same training and equipment, Denner said it creates a forced multiplier. Denner said when working together, one person plus another became two in the past. Now they become three because they all know what everyone else is going to do regardless of what jurisdiction they're from.
"By doing this, it keeps us a lot safer," he said.
Rudner said the feedback has been positive so far, with personnel saying the class has exceeded their expectations by being the most comprehensive and difficult hazmat class they have attended. He also said the regionalization of the training is a major factor in the success.
"The cooperation between the localities is what makes this work," Rudner said.
Anderson also said the students are enjoying class.
This kind of class has "got to be fun," he said. "Everyone who's here wants to be here."