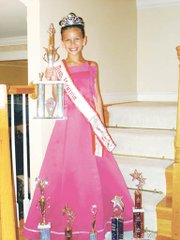 Sophia Martinese, 10, Miss Loudoun County Junior Pre-Teen 2007, will represent Loudoun County at a national pageant held in California later this year. Last July, her first pageant experience, Sophia ended up winning in the 2007 Miss Virginia Junior Pre-Teen first runner-up. This qualifies her to compete at the national level. Other honors include her winning the Most Promising Model award and receiving a scholarship to the John Robert Powers Acting & Modeling school. She also took first runner-up in Casual Wear Modeling. She chose to participate in the Miss Virginia Junior Pre-Teen pageant after a talent scout spotted her at a dance competition. Sophia is from Rivercrest.
THE JUNIOR PRE-TEEN PAGEANT competition is based on character. No makeup is allowed, not even lip gloss. Participants are scored on their knowledge and activity within in their communities. Sophia has donated books and stuffed animals to local charities and also volunteers with senior citizens.
Contestants are also interviewed by an array of judges and evaluated on how they conduct themselves when meeting people. Poise, confidence and values are assessed. Girls need to demonstrate a talent and Sophia performed a dance jazz piece that her mother, Carla Martinese, choreographed.
Sophia says she is looking forward to visiting California and meeting other national pageant participants. Carla Martinese is happy with the Junior Pre-Teen pageant program and said it "builds poise and confidence in the girls and emphasizes inner beauty."
Many hours of training are necessary, but Carla Martinese says it is worth the investment of time.
"Parents interested in entering their daughters in pageants need to keep everything in perspective. They should be careful and make sure their children want to participate," she said.
TINA DOLAN OF FAIRFAX agrees that girls should compete only if they are truly interested. Dolan's daughter, Brenna, is a past winner of Miss Virginia Junior Pre-Teen 2003.
"The girls should have fun with it and use it as a learning experience. The interview part of the competition is probably the most important," she said.
Brenna Dolan has remained active in pageant competition and recently won first runner up for the 2007 Miss Virginia Pre-Teen.
Sophia enjoys dancing and drama. She also participates in Girl Scouts, a book club, gymnastics, choir and Bible camp ministry. Her hobbies are drawing, knitting, writing songs and poems and spending time with her family.