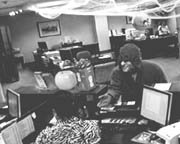 The Loudoun Sheriff's Office is investigating a reported armed bank robbery in Sterling Friday, Oct. 26.
According to the report, around 1 p.m., an unknown suspect entered the United Bank located in the 21000 block of Triple Seven Road. The suspect was wearing a Halloween mask, a dark-colored hooded jacket and khaki pants.
Kraig Troxell, public information officer for the Sheriff's Office, said the mask was nondescript.
"It wasn't like in the movie 'Point Break' and the presidents. The mask was of a white male with a bulbous nose," Troxell said.
The suspect is described as being, 5 feet 8 inches tall, and is believed to be a younger male. The suspect brandished a revolver during the robbery. He left the bank with an undisclosed amount of money.
As of Monday, Troxell said the suspect was still at large.
Anyone with any information about the identity of the suspect is asked to contact Investigator Russ of the Loudoun County Sheriff's Office Criminal Investigations Division at 703-777-0475. If the caller wishes to remain anonymous, contact Loudoun Crime Solvers at 703-777-1919. If the information leads to an arrest and indictment the caller could be eligible for a cash reward of up to $1,000.
More like this story