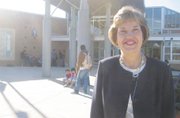 When Lynn Henson, a veteran science teacher at Lake Braddock Secondary School, takes a look around her workplace, she is often at a loss for words.
"Physically, when you look around this school now and think about how it was 10 years ago today, it's just so amazing," said Henson, who has worked at Lake Braddock since 1982. "The changes that you see now are just unbelievable."
Henson was referring to the school's three-year, $72 million makeover — the largest in the county's history — completed earlier this year.
Linda Burke "has brought us one of the most state-of-the-art schools in the region, really in the country," said Lake Braddock eighth grade English teacher Lisa Thompson. "If she didn't fight for it, we wouldn't have gotten it."
Burke, Lake Braddock's principal since 1996, has stood as the school's greatest driving force over her decade in office, said Henson. It is a fact that makes her impending departure to become an assistant superintendent for Fairfax County Public Schools next week so difficult, she said.
"I feel like she's the heart of Lake Braddock and it feels like we're getting a heart transplant," she said.
BURKE WILL be taking up a role as the assistant superintendent for Cluster VII, a position that oversees Chantilly, Fairfax and Centreville high schools and their feeders after she leaves her post at Lake Braddock Secondary School on Nov. 9, according to Paul Regnier, FCPS spokesperson.
"We were obviously looking for someone that had exceptional experience and an ability to handle all levels of education," Regnier said. "Clearly, when you come into one of these jobs you need to have someone who understands how these schools work from the top down, and Linda Burke fit that criteria."
While it is not clear who will take Burke's position on a permanent basis, retired Hayfield Secondary School Principal Vic Lutz will serve as interim principal, according to Lake Braddock officials.
A permanent staff member should be chosen within the month to head the secondary school of 3,830 students, Regnier added.
BURKE FIRST started her career with FCPS as a middle school music teacher in the early 1970s. The native West Virginian, who settled in Northern Virginia as a result of her husband's military career, soon discovered that she wanted to affect more than just one classroom of students.
"I was interested in having an impact on more people, and I've been encouraged by folks along the way that I should be the one to do that," Burke said.
She began her administrative career with FCPS as the assistant principal of Joyce Kilmer Middle School in Vienna before moving to an assistant principal position in Alexandria's Hayfield Secondary School and later as principal of Mark Twain Middle School in Alexandria.
"I have absolutely loved every position that I have had over the years and have learned something new about the education process through each one," Burke said.
It was in an administrative role where Burke has found that many of her abilities are best put to use, however. "I'm a problem-solver, and I enjoy the fact that you face different challenges everyday," Burke said. "It gives me the chance to work creatively and solve problems on different levels throughout the school."
Her open attitude and visual role among the students and faculty at the school have worked to increase her effectiveness as principal, said Debbie DeMaria, Lake Braddock's High School math chairperson.
"She walks the halls every morning, she's the person who's always around," DeMaria said. "She attends all of the activities, all of the games, I don't think you can find a student who has been there for more events than she has."
And Burke has not forgotten her roots, as her music teacher background has definitely had an impact on how she handles her duties issues on a daily basis, she added.
"It's almost like directing an orchestra," she said with a laugh, "you're keeping all the balls in the air and keeping everyone performing at their best."
THE DECADE Burke spent as principal of Lake Braddock was not one of inactivity.
Other than the comprehensive renovation, the school has won a number of different athletic and academic extracurricular awards and has twice ranked in Newsweek's list of top 100 public high schools in the country.
The proudest aspect of her service to Lake Braddock was in adapting to changing demographics in the student body and the staff's overall cooperative approach toward affecting not just the school, but the surrounding Burke community in a positive way, Burke said.
"I loved the collaborative approach, taking input from the community and using that input for the benefit of our students and the surrounding area," she said. "We recognize that this is the heart of the community and we've really been able to make this a place where everyone feels welcome."
While the move will be a positive thing for her career, it will be hard leaving behind her workplace for more than the last decade, Burke said.
"I would be less than honest if I said that it isn't going to be difficult to walk away from a place that I love," she said. "But I also know that I'm walking into an area where the people are incredibly supportive and where I can have a lot of opportunities to do well."