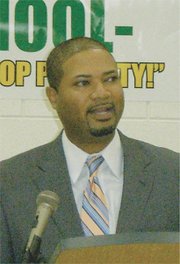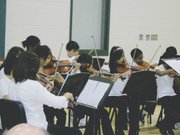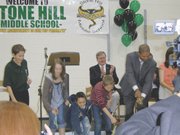 When Loudoun County's School Board chairman, Robert DuPree, walked into Stone Hill Middle School last week, he wasn't expecting to see a fully functioning facility.
"You would never know this is a brand new school," Dupree said as a guest speaker at Stone Hill's official opening ceremony. "It was running like a well-oiled machine."
Stone Hill officially celebrated its opening with a dedication Friday, Oct. 26 in the school's gymnasium.
The school's principal, Rodney Moore, and other guest speakers recognized nearly everyone in the gym, including the students, their families, faculty and staff, county school officials and everyone else who had a hand in the success of the school.
Thomas Reed, Loudoun County's School Board vice chairman and another guest speaker, said cooperation between such entities as the community and School Board are necessary to help start a new school.
"Building a school is not an easy thing to do no matter where you are," he said. "What got us here today is teamwork, cooperation and support."
Reed also gave the students a homework assignment: to develop a legacy for future students of Stone Hill Middle School to follow.
Other guest speakers included the school's Vice Principal Neil Slevin; Loudoun County Public Schools Superintendent Edgar Hatrick; Mosely Architect's vice president Ronald Hotinger; and Jean Goff, part of the "Positive Behavior Support" at Stone Hill.
The Stone Hill orchestra, chorus and band all performed at different times throughout the ceremony, too. The Loudoun County Sheriff's Office Honor Guard performed the "Presentation of the Colors."
Stone Hill's students of the month for September recited the Pledge of Allegiance and read their own poetry and reflections about the school. They also took part in the school's ribbon-cutting ceremony with Moore, who gave the closing remarks thanking, among others, the students' families.
"We appreciate you sending us your best and brightest," Moore said.