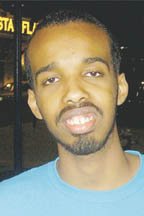 Missing Teen
<bt>The Loudoun Sheriff's Office is searching for an 18-year-old Sterling man who has been missing since Oct. 19.
Ahmed A. Ibrahim, 18, was last seen in Fairfax County. He is described as being 6 feet tall and weighs 127 pounds. He was reported missing to Loudoun authorities Oct. 20.
There are no suspicious circumstances surrounding his disappearance.
Anyone with information as to Ibrahim's whereabouts is asked to contact Investigator T.F. Butler of the Loudoun County Sheriff's Office Criminal Investigations Division at 703-777-0475.
<sh>Go Vote
<bt>All elected county positions as well as all General Assembly seats are on the ballot Tuesday, Nov. 6. Polls will be open from 6 a.m.-7 p.m. If a registered voter isn't sure which election district or precinct he/she lives in, check your voter registration card or call 703-777-0380. More information about the elections is available on the county Web site, www.co.loudoun.va.us.
<sh>Grant Money Received
<bt>The Loudoun County Sheriff's Office was awarded a grant through the Bullet Proof Vest Partnership Program to purchase needed armored vests to help protect the lives of county deputies.
The Loudoun Sheriff's Office applied for the grant in April and will receive $12,199. The monies will be used to purchase 18 bulletproof vests. All deputies are provided with a bulletproof vest. The Bullet Proof Vest Partnership Program was created by the Bulletproof Vest Partnership Grant Act of 1998 and is a U.S. Department of Justice initiative designed to provide a critical resource to state and local law enforcement. The Office of Justice Programs' Bureau of Justice Assistance (BJA) administers the program.
<sh>Water Still Restricted
<bt>Despite recent rain, LCSA continues the call for mandatory restrictions, and, with forecasts for at or below normal precipitation through the winter, county officials plan to keep them in place for awhile.
For more information on the restrictions or a full or partial waiver, visit www.lcsa.org.
Violating these restrictions is a Class III misdemeanor and carries a $500 fine for each instance. Repeat violators may have their water service shut off for a period of up to five days, under the county administrator's discretion.
To report a violation that is in progress, contact the Sheriff's Office directly at 703-777-1021 or report a violation to LCSA, which will be forwarded to the Sheriff's Office, by e-mailing drought@lcsa.org or by leaving a message at 571-291-7870. Provide a street address, time and date of the violation.
<sh>House Approves Measure
<bt>The House of Representatives, Wednesday, Oct. 24, overwhelmingly approved the creation of the Journey Through Hallowed Ground National Heritage Area, tying together all the historical and cultural sites along U.S Route 15 from Thomas Jefferson's Monticello in Charlottesville to Gettysburg National Military Park in Pennsylvania.
The measure's chief sponsor is Rep. Frank Wolf (R-10). Included in a larger bill heritage area bill (H.R. 1483, Celebrating America's Heritage Act), the legislation now goes to the Senate.
<sh>America Recycles Day
<bt>On Thursday, Nov. 15, the nation will celebrate the 10th America Recycles Day. The theme of this event remains "It All Comes Back to You." The goal is to increase consumer demand for recycled products and to educate all Americans about the environmental and economic benefits of recycling. Consumers are encouraged to practice "Buying Recycled."
For more information about recycling in Loudoun County, visit the Office of Solid Waste Management Web page at www.loudoun.gov/oswm. For more information about America Recycles Day and to pledge to reduce waste by reusing recycling and buying recycled-content products visit:
http://www.mwcog.org/environment/recycling/recyclesday/pledge.asp.
More like this story