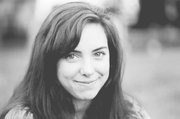 By the time Candace Scholz won a Cappie award for best featured actress in a musical for her performance in West Potomac High School's production of "42nd Street," she had already finished filming a small role in the feature-length film, "Rocket Science," which was only recently shown in theaters.
Scholz, who graduated last spring and is now attending Tisch School of the Arts at New York University, played the role of a fast-talking high school debater who appeared in the first five minutes or so of the comedy. The scene was shot over a couple of days when she was 16.
"It was cool to get a trailer and go through costumes," she said, adding that director Jeffery Blitz, who was responsible for 2002's Oscar-nominated documentary "Spellbound," was not the type of director who barked orders. "He was a treat to work with, and everyone on the set was really nice," she said.
Having seen herself on the big screen for the first time, she said, "You kind of cringe at first, but after you get over it, it's pretty thrilling."
The film garnered favorable reviews and a Sundance Film Festival Director Award.
In August, Scholz finished work on an upcoming horror film called "From Within." Although her role in the movie was smaller than her "Rocket Science" part, she was also cast as the double for the lead actress, whose character in the film had a doppelganger. As the double, Scholz made brief appearances as both the living and dead versions of the character and did some stunt work. "I had to do some falls and running around," she said. "It wasn't like "Kill Bill" stunt work."
She stayed with the cast and crew at a hotel in Havre de Grace, Md., where the movie was shot. "It was kind of daunting, because I was alone for about a month, hanging around a movie set," she said, although she added that, over time, "you become this unit, kind of a family."
The movie, she said, is about a town that falls under a curse, causing the townspeople to "go into this Red Scare mode," pointing fingers and accusing each other. "We used more than our fair share of fake blood," she assured. The team is pushing to finish editing the movie in time to meet this fall's deadline for the 2008 Sundance Film Festival.
SCHOLZ'S MOTHER, Dawn, said her daughter fell in love with acting when she was in a Christmas pageant at the age of 7. Later, she won the role of Helen Keller in a New Mexico State University production of "The Miracle Worker."
"That was a huge role in kind of a big production, and that's when she decided that's what she wanted to do," said Dawn Scholz.
When the family lived in Alaska, Candace Scholz took fourth place out of about 1,000 entrants in a model and talent convention. Calls began coming in from agents, said her mother. "That's when we said, 'OK, we're going to have to start taking this more seriously.'"
During her senior year, Candace Scholz spent "pilot season" in Los Angeles, keeping up with classes from afar. She did not land a role, but she did make straight A's, her mother reported.
"We just kind of muddled through without any experience and without moving to L.A. or anything," she said.
"She's a go-getter, and she knows what she wants," West Potomac theater director Kathie McCormally said of her former student. She said Scholz also took seriously every role she played. "She can play young, she can play very sophisticated — she's a chameleon." McCormally noted that Scholz is also "an incredible dancer" and discovered when preparing for her role in "42nd Street" that she could also sing. "So she's definitely a triple threat."
While McCormally has other former students now working professionally in theater and in movie production, she said Scholz was the first she had seen on a movie screen. "I have no doubt you'll see her in other films," she said.
Although she is still auditioning for parts, said Scholz, she is not letting work interfere with her studies. She said she only tries out for roles that would not require her to be away from school, and she often does not leave school for the try-out. "If and when I audition, I usually send it in on DVD," she said.