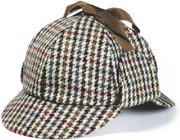 <b>Etiquette Tea</b>
On <b>Saturday, Sept. 30</b>, 3:30 p.m. young ladies ages 8-11 years are invited to visit Colvin Run Mill, 10017 Colvin Run Road, Great Falls, for a lesson in table etiquette. Space is limited, so pre-paid are reservations required. Cost: $18. For more information, call 703-759-2771 or visit www.fairfaxcounty.gov/parks.
<b>Twilight Tour</b>
Visit Frying Pan Farm Park on <b>Thursday, Sept. 27 and Tuesday, Oct. 2</b> for a special look at how the groundskeepers put the animals to bed at night. From 7-8 p.m. at the park's Kidwell Farm, 2709 West Ox Road, Herndon, children ages 3-6 can watch as the barnyard animals settle in for the evening. Bring a flashlight or lantern. Cost: $4. Pre-paid reservations required. Call 703-437-9101 or visit www.fairfaxcounty.gov/parks/fpp.
<b>Skate Party</b>
Area families are welcomed to participate in the Family Skate Party, <b>Friday, Sept. 28</b>, 6-9 p.m. at the Green Acres Cafeteria, 4401 Sideburn Road, Fairfax. Skate to Oldies music. Cost: $3, skates not provided. Pre-register at 703-385-7858.
<b>Solve a Mystery</b>
It's never too late to solve an 18th-century mystery. This weekend, area children can look for critical clues guided by a letter from George Mason, <b>Saturday, Sept. 29</b>, 9:30 a.m.-5 p.m. at Gunston Hall Plantation, 10709 Gunston Road, Mason Neck. Cost is $5/ages 6-12, free under age 6, regular admission for adults. Groups of 10 or more may take a Sleuth tour any day of the week at $4/child. Call 703-550-9220 for reservations.
<b>Time for Tots</b>
Centreville Regional Library has collected a number of pumpkin-oriented stories for its children's reading series. See what they've picked, <b>Wednesday, Oct. 3</b>, 10:30 a.m., at the Centreville Regional Library, 14200 St. Germain Drive, Centreville. For ages 2-3 with an adult. For more, call 703-830-2223.
More like this story