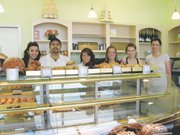 "Great pastry should not have to be an extravagance," said Harry Sarkees, pastry chef, baker and owner of Vienna's new patisserie, Silva's.
A Vienna native, Sarkees has four generations of family bakers backing up his contention.
As a young child, Sarkees stood on a bucket helping his grandfather make breads and confections. It's always been in his blood, he says. Silva Sarkees, for whom the restaurant is named, spins fantasies of crystalline sugar into whimsical reproductions … a boot, a regal lion, a fanciful hat. While Harry Sarkees is king of the bread and pastry domain, Silva is queen of cakes and spun sugar creations.
"We look at the business from the customer's viewpoint," said Silva Sarkees. "When customers walk in, they should feel like kings and queens, to know we value their business, and that we are giving them the best-possible product in a courteous and friendly setting."
Customers were waiting outside when Harry Sarkees opened the bakery's doors to the public early Saturday morning. As customers steadily streamed in on opening day, Sept. 22, a youthful staff greeted them, offering samples of miniature swan-shaped cream puffs and fruit tartlets, old-world cookies, rich two-bite wonders.
"Everything looked so good," said Diana Gjormand of Vienna, carrying a bag of sweetbread and muffins. "Harry came out front to welcome us."
Maya Melhem of Vienna, rushing off to a soccer game with her son, bought a chocolate croissant to take with her, but said she is coming back for the pies and the artistic cream puffs.
"We've walked by several times while they were constructing this place and we were looking forward to its opening," said Verna Hazzard, as she and her husband Larry sampled pastries and cookies. "There's room for a number of good bakeries here in Vienna. If they're of high quality, they'll get our business." Larry Hazzard gave a thumbs-up to the almond-caramel "brik."
Linda Poole of Oakton was also looking forward to the opening of Silva's Patisserie, agreeing that the more bakery choices in Vienna, the better.
AT 4 P.M., Silva's Patisserie honored its new home in Vienna. Harry's sister, Lala, part of the team, and father, Saco, helped to pass out champagne and chocolate mousse cake to customers and invitees. Mayor M. Jane Seeman waited her turn to make a purchase.
And over a loaf of bread, Father Vertanes Kalayjian of the Armenian Apostolic Church of Washington, D.C., blessed Silva's.
The Sarkees family recognizes its Armenian heritage with Armenian sweetbread, almond paste cookies and rugulach. Loaves of bread, made from organic King Arthur unbleached flour line the counter top. Many begin with a natural sourdough starter, as Sarkees is eager to explain.
"We want informed, educated consumers," said Sarkees. "The customers deserve to know they are getting the highest quality ingredients."
The stone-lined state-of-the art bread oven was imported from Italy and assembled on-site. For now, Sarkees and his baking staff are producing about a half-dozen varieties of breads. They are beginning their run with a French baguette, Italian loaf, peasant sourdough, seeded Jewish rye, olive-rosemary loaf, and several sweetbreads, all ranging in price from $1.29 to $4.
"I want our customers to come in three or four times a week, even if it's just for a breakfast scone and a 'hello,'" said Harry Sarkees. "We will provide a high-quality product, reasonably-priced. In the environment I grew up in, we don't believe in overcharging. We love Vienna and we want to give back to the community."
SILVA'S BREAD BAKERS report to work at 2 a.m.; other employees come in throughout the early morning. The bakery opens for business daily at 6 a.m. and a staff of 12 – 15 works in the kitchen and in the front sales area.
"It's fun here," said Silva Sarkees. "We've created a beautiful family in our shop. You have to take good care of the customers, but you have to take good care of your employees, too."
Harry Sarkees attended Stenwood Elementary School and Kilmer Middle School, and after graduating from George C. Marshall High School in 1992, worked for Hilton refining his craft before opening his first bakery, a small shop in Falls Church. His heart, though, remained in Vienna where his family continued to live.
For the past "four or five" years, Sarkees sought space in Vienna, even as he sold his Falls Church bakery and held a pastry chef position at Kennedy Center's four dining venues.
"WHEN MY FATHER came to this country 30 years ago, he brought a small jar of starter with him," said Silva. "Starter that his father made before my father was even born … it must have been 75 years old or more.
"When he got to the airport, they confiscated it. My father cried. He said, please, take anything, but leave me this. No, they said, and took it. My father made new starter when he got to California but it wasn't the same."
One morning last January, Silva Sarkees woke up and felt the urge to make a new bread starter.The next day, less than 24 hours later, the starter had begun to bubble, already giving forth life. She called Harry.
"I said to Harry, 'we are going to get the space in Vienna.' Harry asked how I knew that. And I told him about the starter …. And how it had bubbled so quickly … I knew that was a sign.
"A few hours later, I got the call from the leasing agent. Come today to sign the papers for the space on Glyndon Street, she said. We did."
Owner of The Virginian restaurant, Epione Kappatos, stopped by to welcome her new next-door neighbors, buying a cheesecake for her own restaurant staff.
"In Greece, we buy something on opening day to wish the new owners 'good luck,'" said Kappatos. "I think our businesses will complement each other well."
BLUEBERRY AND APPLE PIES were priced at $7.99 each, and mini-pastries, muffins and scones, at 99 cents each. Old-world cookies sell by the pound. A large, elaborately decorated chocolate mousse and meringue cake was priced at $20.
"You shouldn't have to pay extra for good food and good service," said Sarkees. "That should be the very minimum a customer expects and receives."