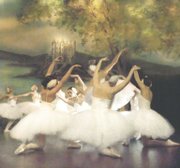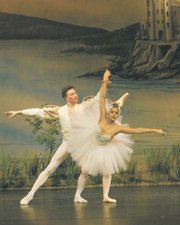 It isn't just that the dancers at the Loudoun Ballet Company do all four acts of "Swan Lake," a rarity as far as community ballet is concerned, it's that they do all four acts and make it look easy that is so impressive. Of course that is really the goal of any good ballet and the most challenging part says Maureen Miller the company's artistic director. On April 12 and 13, the dancers of the Loudoun Ballet will once again rise to that challenge, performing the classic ballet at Potomac Falls High School.
"It's pretty unusual. Most regional ballets just do the second act and they hire in for the lead parts," said Miller, while taking a break during a Sunday rehearsal. "We use our own girls for all the parts. It is a large undertaking for teenagers."
The story of "Swan Lake" is of a princess of the night who is a gorgeous swan but becomes a beautiful woman, thanks to a sorcerer, during the hours between midnight and dawn. During this time she falls in love with a prince, but their relationship is doomed from the start since she has no control over her destiny. The ballet was original composed in 1875 by Tchaikovsky and while not warmly received when it first appeared it has become revered as one of the great ballets.
"Our performance is mirrored after the original version," said Caris Babilonia, a board member for LBC and the head of publicity for the company. "So it's very classical and as close to the original as you can get."
The dancers for the performance are all students who dance at the Loudoun School of Ballet and have tried out to become part of the company. Dancers vary in age from 7-17 and while not all of them are looking to become professional dancers, Miller said, they all take their dancing very seriously. The four principle dancers, Lusisa Casuccio, Michealea McGowan, Ashlynn Jones and Claire Babilonia, are all 17 and have been dancing with the school for many years.
"What's fun about ['Swan Lake'] is it's not just dancing but acting, too. It's fun and challenging to play different emotions like evilness or sadness while dancing," said Jones, who is dancing as a both a black and white swan, while sitting with the three other lead ballerinas.
"Keeping up the stamina for the whole thing is one of the hardest parts," added Casuccio who will be playing a black swan.
"All while trying to make it look easy," finished Jones.
"I really like that we do all four acts," McGowan, who will be a white swan, said, "All the rehearsals really teach us dedication and consistency."
THAT DEDICATION and consistency doesn't just stop when the girls stop dancing. In fact one of the main goals of the company and the school is to help the girls realize what performing in a professional company is like and too inspire them to work hard at whatever the want to do in life. Caris Babilonia and Chris Casuccio, a board member and producer of the show, both have heard stories of dancers who have left telling how much better prepared they are not just for dancing elsewhere but for school, work and life in general.
"For the dancers, they gain grace and discipline. They're here a lot and they're still all upper 10 percent of their classes. They're all high achievers and they say they learned all this from being in the company. They learned how to get things done," said Chris Cassucio.
The school isn't just for LBC dancers though. Classes are offered for any skill level at any age. The school is the oldest and largest in instructional dance facility in the area, having been founded in 1976 and spawned the dance company. Founded by Sheila Hoffman-Robertson the school has trained more than 10,000 dancers, both recreational and professional.
"[Robertson] wanted to give her students an opportunity to perform so she started the company," said Caris Babilonia.
The dancers in the company will tell you that getting up on stage is the best part of all it. As Jones put it the second she was asked what her favorite part about dancing was, "Performing, definitely."
"The rehearsals are really long," said Claire Babilonia, a white swan, "but in the end it's worth it."
AS FAR AS worth it goes, the Loudoun Ballet Company has spent many years building up a strong reputation as one of the better regional ballet companies in the area. Performing full length ballets and having an incredibly popular performance of "The Nutcracker" every year have helped immensely, says Chris Casuccio, but it is also the dedication of the students who give up much of their weekend and often do homework in the halls while waiting for the next rehearsal.
"We're very good," said Chris Casuccio. "Audiences have left performances really saying that they can't believe we have this level of dancing. People think that it is just going to be a recital type thing, especially since we have to perform in high schools. But once they see us they want to know what is next.
Getting people out to the ballet, though, is another thing entirely. While the company's "Nutcracker" is always popular Miller hopes to popularize more of its repertoire, which includes mostly classic ballets and next year will add "Peter and the Wolf." Many of the company's dances are classics that Miller hopes residents of Loudoun County can come to love and appreciate as much as the yearly "Nutcracker" performance.
"There are so many people in Loudoun County that don't know anything about 'Swan Lake' and everything is here at their fingertips to come learn and experience it," she said.
The company is also trying to do a bit more community outreach. Most of their performances are story-based ballets, which Caris Babilonia, says are a bit more popular, and they will hopefully be offering tickets to school groups next year who want to come see and learn about the ballet. One of the main goals of the company is to educate the audience, says Miller. The LBC wants to get people more interested in ballet throughout the county.
For the dancers, the performance also means a chance to show off what they know and all the hard work they have been doing. The girls, both the leads and the corps de ballet, whom Miller said are the true sign of the quality of the company, hope that audiences earn some respect for ballet and even hope to inspire more to dance. More importantly though than this, almost everyone involved hopes that the audience can have some fun.
"I hope the audience has fun watching it. I hope that people like it," said McGowan.