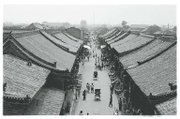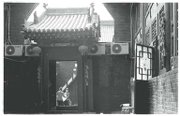 Edwina Chen is a traditional photographer: she works in darkrooms around the area, her materials are film and paper. The Canadian transplant now lives in Vienna, and is exhibiting her photographs from travel in China at the Reston Community Center Hunters Woods, 2310 Colts Neck Road, during April. There will be a reception with Chen on Saturday, April 12, 1-2 p.m. For information, contact the RCC at 703-476-4500 or visit http://photo.edwina.org.
Where are you from originally? Where are you living now?
Ottawa, Ontario; Vienna.
Who are your major artistic influences?
Frank Lloyd Wright: an organic architecture that evolves naturally out of the context, most importantly for him the relationship between the site and the building; Louis Kahn: architecture in a poetry of light; Henri Cartier Bresson: father of modern photojournalism, an early adopter of 35 mm format, and the master of candid photography the decisive moment. "Photography is not like painting," Cartier-Bresson
told the Washington Post in 1957. "There is a creative fraction of a second when you are taking a picture. Your eye must see a composition or an expression that life itself offers you, and you must know with intuition when to click the camera. That is the moment the photographer is creative," he said. "Oop! The Moment! Once you miss it, it is gone forever."
Any local community influences in your work? Other influences?
Printing in local open studio, and the people I came across encouraged me to exhibit my work: Claire and Stan Sherman for their discriminating eye; Jim Halloran for discussion on art and photography; Scott Chen my father, for framing the pieces, without him the show would not be possible; Ryan O'Neil, who answers my doubts, allows my criticism and disavows my fears.
What do you do when you aren't working on your art?
Books, from reading to binding them; music, pottery, plants.
When did you first get inspired to create art? Did you always know that you wanted to be an artist?
An amateur photographer, I learned photography in college; I never took a class but we had open darkrooms. I inherited my father's equipment, not only a SLR and lenses, but also bulk film loaders and canister, this provided a broader understanding for the medium and a respect for materials.
Where do you do most of your work?
There are several open studio throughout the area. Of course the darkroom right here at Hunter Woods Community Center in Reston. Sandra Denzel has been one of my earliest cheerleaders, she told me years ago to have a show but it has taken this long to build up my confidence. Thomas Jefferson Community Center in Arlington also has a wonderful studio. Jim Halloran, painter, encouraged me to enter the Arlington County ellipse exhibition, juried by David Griffith, director of photography at National Geographic. It was the first time I ever had formal criticism. I emerged shaken, bolstered, and a better technician – it was a reminder of the pedantic nature of the craft. Skill is a repetitive action consistently executed, over time.
What do you listen to when you work? Is it reflected in the work you create?
Silence.
Favorite medium to use and why?
Photography as a discipline consists of three parts: composition which lies behind the body of the camera; chemistry – very few make that incursion; paper which is in the darkroom. Paper is a gift – what a gas flame is to a potter, the instrument is to a musician, the seed is to a gardener. When the craft is executed, the work is done. The paper does its magic.
The mechanics of photography, "writing with light," is the action of a photon striking a molecule of silver. When you have silver at home and you do not polish it, it turns black – that in essence is the nature of film and paper. The process of a print is awakening the latent silver which blooms from the depths of a field of white, the blacks are deep because they are part of the paper, they emerge to the surface like whales who come up for air. Only then can we see them, aligned in the cameras decisive moment. I think there is tranquil beauty in the tarnishing of silver.
What would you consider the theme of the exhibit?
Photographing China for almost 10 years.
What do you hope viewers get out of the show?
Photography captures the way I see the world, this exhibit has given me the opportunity to share my world view. The prints are numbered, if you noticed there is a whole succession of "1," this is the first time many of these photos have ever been printed and I am delighted and surprised to discover the world is beautiful.
I never realized I saw such beauty – but there it is in black and white.
Do you have a favorite piece in the exhibit?
Women folding tablecloth.