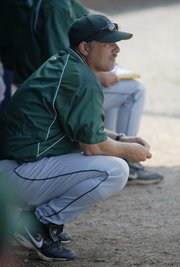 The past two weeks have been a rollercoaster for the South County baseball team. After a 20-7 loss to Madison during the Stallions' spring break tournament, South County (4-2, 2-0 Patriot) bounced back with a 21-1 win over Annandale to start its district schedule.
But to head coach Mark Luther, the score was a little deceptive in both games.
"The [Madison game], in our mind, was a little misleading in that we were up 7-4 after five and we just kind of ran out of pitching," said Luther, whose squad played three games in as many days during the tournament. "Guys that normally don't pitch stepped out on the mound for us and did the best that they could."
The opposite happened for the Stallions against the Atoms. Senior ace Jess Beal stepped on the mound against Annandale and no-hit the Atoms through three innings before calling it a day. The Stallions' bats gave Beal more than enough firepower.
"We hit a lot of balls on the nose that night," said Luther.
The defending district champs followed up their big night with a 11-7 win over West Potomac on Tuesday night to post an early 2-0 record in the Patriot District.