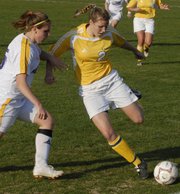 Robinson's girls soccer team has had an eventful past couple of days. After a tough 1-0 loss to Stone Bridge on Friday night, the majority of the Rams' team traveled to the Jefferson Cup over the weekend – an annual tournament that hosts over 600 club teams from around the nation. After playing at least three games over the weekend with their individual club teams at the Jefferson Cup, the Rams traveled to Lake Braddock on Tuesday night to take on the two-time defending state champion.
"It was a little obvious isn't it," said Robinson head coach Jim Rike with a laugh when asked if his girls were fatigued from their demanding schedule. "It was pretty obvious tonight that some of the kids were heavy-legged. Most of them played four games in two days and it takes more than a day to recover."
Heavy legs or not, the Rams took down the Bruins, 3-0, in a game that was far from decided until the final minutes.
The Rams (5-1) got on the board early, when a corner kick by sophomore forward Jensen Smith ricocheted off of sophomore forward Audrey Barry past Bruin junior keeper Caitlin Landsman with 33 minutes left in the first half to give the Rams a 1-0 lead.
By halftime, the Rams' slim 1-0 lead remained.
"We talked at halftime that one goal was not enough," said Rike, whose Rams withstood a flurry of attacks from the Bruins (1-3) to end the first half.
"If they get one in, they are going to be refreshed and come at you," Rike told his squad.
<b>THE RAMS AND BRUINS</b> continued to battle without any goals for the next 33 minutes of the second half, with neither team able to gain the advantage.
With seven minutes left, the Rams' second goal came as a surprise, when junior midfielder launched a ball from 30 yards out that sailed over the outstretched arms of Landsman.
"I just put it up there," said Criman, who turned to the Robinson sidelines with a shocked look on her face after scoring. "It took a lot of the pressure off in the last 10 minutes."
Minutes later, junior forward LeighAnne Baxter padded the Robinson lead a little bit more with a bullet past a diving Landsman.
"I think that we are a little bit disappointed because we know that the result doesn't really reflect the way that the team played," said Lake Braddock head coach Adam Soos. "We don't feel like we made them earn the three goals that they scored tonight."
The Bruins, after a 4-0 win over Langley in their first game of the year, have dropped three straight, all to Concorde District opponents.
"We know that we are capable of playing much better, but as I told them, we come out each day to get better," he said. "That is all we are really after, a little bit of progress every single day."
The win gives the Rams momentum as they begin their Concorde schedule, with Westfield on Thursday. "It is going to be a good character builder one way or the other," said Rike.