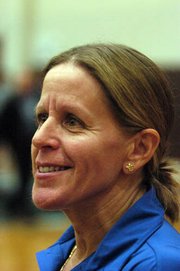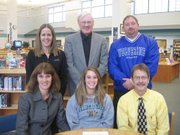 Jean Coder recently flanked Stephanie Gerow as the senior co-captain signed a National Letter of Intent in the school library. For the student, signing the scholarship was her shining athletic achievement — her parents, her club coach, and the newly appointed director of student activities — were all there.
For Coder, the varsity girls soccer coach for the past three seasons, watching Gerow — like her older sister two seasons ago (who plays at James Madison) — sign a scholarship offer in an inspiring reward for both player and coach.
"The biggest thrill [of coaching] is to see the excitement for the kids," said Coder, who also coached basketball and soccer at Mount Vernon before joining West Potomac during the 1999-2000 school year. "It's pretty rewarding."
But Coder, who had juggled her time for the past eight years between both volleyball and soccer, decided that in order for her to achieve that same level of excitement with her family, she needed to settle on a single sport. So she chose her cleated clan, rather than the volleyball post she's held for the past seven seasons.
"The soccer off-season is the fall and that's really when I need to be working with the soccer athletes," Coder said. "And the volleyball off-season is now in the spring, when I could be coaching club or helping them in that endeavor. It's for the better of both teams."
Aside from the family aspect, it's somewhat surprising that Jean Coder would step aside off the heels of West Potomac's best season in school history. The Wolverines enjoyed unprecedented success — they achieved their first-ever runner-up finish in the Patriot District this past fall. And West Potomac made it to the second round of the regional tournament before being outmatched by a potent Centreville team.
But Coder, who is the physical education chair at West Potomac, knows first-hand the type of stress associated with being the torchbearer for a sport that lacks a level of consistency.
"Being a coach is a huge sacrifice on the family and any coach in the region will tell you that," Jean Coder said. "My kids play sports too so balancing between me at practices and seeing their games…it just seemed like a good point for me to turn the program over and concentrate on soccer."
When would be a better time?
<b>THE WOLVERINES TOUT</b> two senior studs — one in Gerow, an uber-talented striker coming off a devastating ankle injury that caused her to be a shadow of her sophomore season when she tallied a school-record 21 goals and 11 assists. Last year, she suffered the ankle injury during the travel season — where she's led the Vista Hotshots in goals for the past six seasons. The injury had a ripple effect during a disappointing 2007 season.
"It's always hard for an athlete that's used to success to have that first injury," Jean Coder said. "She'd been lucky that it hadn't happened before…how kids respond to that can make or break a player. It's been hard for her to have to be patient."
The other co-captain, and the one who shared the brunt force of Gerow's 2007 injury is center midfielder Jamie Coder, who is the coach's eldest and only daughter.
"It was pretty rough on her, having a lot of freshmen in the lineup last year," Jean Coder said.
This season, however, those players have morphed to sophomores and the quick results have led to an early 2-2 record, including a coveted 2-0 win over archrival Mount Vernon on Tuesday. The victory ensured that West Potomac regained the George Washington Cup, which is awarded
The fourth-year coach is hoping that the early success will breed confidence and translate to something similar to the 2006 soccer season when Gerow combined with sister Nicole, a then-senior defender and co-captain to a runner-up finish in the Patriot District and a berth in the second round of the region tournament.
<b>JEAN CODER IS</b> banking on her four senior captains to spearhead another region run amid district powers like Lake Braddock and West Springfield. Their maturity, combined with the multitude of sophomores, are essential should the Wolverines battle among the Patriot District elite.
"We have four [captains] that have been on the varsity since they were freshmen," Jean Coder. "It's been fun watching them grow and mature and by the times these girls reach their senior year, they're ready to be the leaders. They're ready to stand up and take responsibility for what goes on."
But the veteran coach also admitted on Wednesday, that while winning is the ultimate goal, she still enjoys watching players like Gerow succeed. Even in their shining moment.
"We've had good teams over the years, and winning is a fun part of it, but it's never been one of my main goals," Jean Coder said. "I really enjoy the week-to-week and working with athletes that love the sport."