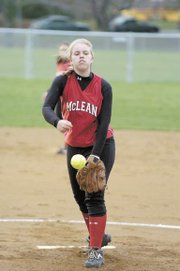 The Stone Bridge High girls' softball team was a squad determined to get a win following two extra inning losses to begin the high school spring season.
And, behind junior starting pitcher Ashley Gardner, the Bulldogs pounced into the `W' column with a 6-3 victory over a talented McLean team last Friday night.
The early season, Liberty District contest took place in cool, windy conditions at McLean.
"For our first district game, it feels real good to come out strong," said Gardner, who held McLean scoreless through six innings before the Highlanders touched her up for three runs in their final at-bats.
"I think we have a chance to go pretty far [this season] if we play like this."
Stone Bridge (1-2), which began the season with extra inning losses to both Loudoun Valley and Herndon, played a solid, all-around game against McLean. On the mound, Gardner allowed just three hits while striking out six and walking two over the first six innings.
McLean, trailing 6-0, came to life in its final at-bats. Its first three batters reached to load the bases before Highlander sophomore second baseman and No. 9 hitter Brittany McCray earned a walk to force in the home team's first run of the night.
The next hitter, sophomore leadoff batter Lauren Sutherland, knocked in a run on a ground ball out to make it 6-2. Freshman Jamie Bell also plated a run on a groundout to get the Highlanders within 6-3. But Gardner, against the next batter, forced a groundout to end the game.
Through the difficult seventh, Gardner allowed two singles and walked two. But she remained tough and earned the mound win.
"She pitched great," said Stone Bridge coach Mike Skinner. "That's the best she's pitched this season. She ran out of steam near the end."
Gardner received excellent defensive play behind her as Stone Bridge committed no errors and came up with several sparkling plays. On two occasions, Bulldog first baseman Lauren Wolz made two difficult catches on wind-blown, foul balls against or near the fence. On another occasion, Stone Bridge center fielder Cassie Phillips made a running-in, shoestring catch on a solid, sinking ball off the bat of Kristen Raber. And Stone Bridge second bagger Michelle Mocabee also made a nifty ground ball putout.
"We're going to pitch [well] and we're going to make the plays [in the field]," said Skinner, pleased with his team's ability to hold down opposing offenses.
Gardner felt good to have gotten through the tough seventh inning and to have contributed to her team's win.
"I felt pretty good," she said. "The last inning was pretty nerve-wracking. I had to stay strong and I knew I had a good defense behind me."
<b>WHILE GARDNER</b> threw a solid game for Stone Bridge, McLean also received a stellar effort from Raber, its senior starting pitcher.
The right-hander held the guests scoreless through the first three innings before the Bulldogs tallied two runs, both on two-out hits, in the fourth. Gardner started the fourth inning with a ground ball single into left center field. Raber, however, then retired the next two Bulldog hitters on pop-ups.
But Stone Bridge's Phillips, a junior and her team's No. 5 hitter, then lifted a double down the right field line. The extra base hit scored Gardner to break a scoreless tie.
"Cassie did a great job hitting me in," said Gardner, of the hit in which she scored from first base. "It felt good to get a run in."
Cori Prince followed Phillips' hit with an RBI single into right field to make it 2-0. McLean got out of the inning moments later when catcher Alaura Maglio threw Prince out attempting to steal second.
Raber held Stone Bridge scoreless in the fifth and McLean was still in the game, trailing 2-0, following five full innings.
But Stone Bridge knocked two singles and took advantage of three McLean errors in the sixth to tally two runs and go ahead 4-0. The highlight of the inning for Stone Bridge was a run-scoring groundball single into center field off the bat of Prince.
Stone Bridge scored two more runs in the top of the seventh, the big hit being an RBI double into left center field by Gardner.
That top of the seventh inning ended in spectacular fashion when McLean right fielder Sophia Iglesias nabbed a sizzling line drive well above her head before doubling up a base-runner at first for an eye-catching double play.
Skinner was impressed with the McLean team, coached by Maurice Tawil.
"He's got a good club," said Skinner.
<b>TAWIL'S SQUAD</b> fell to 3-4 with the loss. McLean's wins have come over Forest Park (Woodbridge), Robinson and Queen Anne (Md.). All three of those Highlander victories came during its recent spring break trip to Myrtle Beach.
Against Stone Bridge, McLean, with the exception of the tough sixth inning, played a decent game. The Highlanders managed just five hits on the night, but made things happen at the plate with its three-run seventh. Defense, however, hurt the home team.
"We committed five errors in the game and they out-hit us," said Tawil. "It was a 2-0 game and, before you know it, it was a 6-0 game."
The coach was pleased with Raber's complete game outing on the mound. Raber struck out seven and walked one.
"She threw very well," said the coach. "She only had one walk and a lot of the fly balls were wind [blown] that would be caught [normally]. She gave us the opportunity to win the game."
Offensively, Sutherland, McLean's leadoff hitter, led the Highlanders with two hits, including a double, and an RBI. Bell also singled and had an RBI, and both Raber and pinch-hitter Mara Sherlock singled. McLean third baseman Jessie Straub walked twice.
For Stone Bridge, Gardner tallied three hits, including a double, and both Prince and Beth Lewis had a couple of hits.
McLean has been hurt this spring by early season injuries. Coach Tawil's daughter, senior center fielder Danielle Tawil, suffered a knee injury the day before the team left for its Myrtle Beach trip. There is a possibility Tawil, an all-district player the past two years, will be out for the season.
Another Highlander out with a knee injury is sophomore shortstop Lauren McColgan. Chances are good that McColgan, who missed the Stone Bridge game, will be back in the line-up soon.
Coach Tawil said his players are keeping a bright outlook on things.
"So far, we're handling it good," said the coach, in regards to the team injuries. "We haven't lost the desire to compete and win."