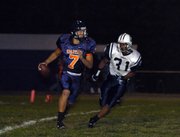 With the NCAA-mandated 15 spring practices nearly halfway complete, West Springfield alum Peter Lalich appears to be the front-runner to become Virginia's starter at quarterback.
Lalich, a sophomore, has been sharing repetitions with classmate Marc Verica and fifth-year senior Scott Deke, though none has been publicly established as the frontrunner. But with two-year incumbent starter Jameel Sewell not enrolled in the spring semester, Lalich, a 6-foot-5, 235-pound pro-style passer, should be the odds-on favorite to start the season opener against Southern California on Aug. 30 in Charlottesville.
Two years ago, Lalich was considered one of the nation's top quarterback recruits after two years under center for current Spartan head coach Bill Renner. As a senior, Lalich completed 208-of-307 passes for 3,134 yards and 33 touchdowns, and once threw eight touchdowns in a single game, which still ranks as the second-highest total in state history. He is also tied for fifth in state history for career completions (438).
In his freshman season at U-Va., Lalich played in eight games — the first four and final four. Though he filled in admirably for Sewell, who went down with an injury at the start of the fourth quarter in the 2008 Gator Bowl (Lalich went 3-of-5 and had a touchdown), he fumbled at U-Va.'s 4-yard line late in the fourth quarter, allowing Texas Tech to tie the game. The Red Raiders later won 31-28 by hitting a 41-field goal with seven seconds left, ending the Cavaliers' hopes for a 10-win season.
Lalich registered a career-high 131 yards against Duke on Sept. 8 and finished the season with 321 yards on 35-of-61 passing (57.4 percent). He became the first true freshman to play quarterback for the Cavaliers since 1997.
If Lalich can hold on to the job throughout the spring and into the fall, he could be potentially become U-Va's quarterback for the extended future. The Cavaliers signed Riko Smalls as its lone quarterback in its 2008 class, and it's likely he will be moved to another position. On Sunday, Sherando High (Stephens City, Va.) quarterback Ross Metheny, who led the Warriors to the Div. 4 state title game as a junior, verbally committed to the Cavaliers for the 2009 season.
But Lalich still has plenty to worry about at U-Va. Getting top wide receiver Kevin Ogletree back from a knee injury that sidelined him for the entire 2007 season is a start. However, aside from naming former Marshall head coach Bob Pruett as defensive coordinator, most of the football news has been less than positive.
Prior to the start of spring practice Al Groh, who was named the 2007 ACC Coach of the Year, announced that junior running back Andrew Pearman, who gained 144 yards on 37 carries and rushed for two touchdowns in 2007, left the team and won't return because of an undisclosed recurring illness.
Andrew Pearman, who is the brother of Virginia alum and current Seattle Seahawk running back Alvin Pearman, joins five academic casualties, including top cornerback Chris Cook, defensive end Jeffrey Fitzgerald and Sewell. All-ACC guard Branden Albert also declared for the NFL Draft and defensive coordinator Mike London became the head coach at Richmond.
Virginia has a slew of former area standouts, including backup redshirt freshman quarterback Warner Blunt (Episcopal) and running back Max Milien (Yorktown), along with Fairfax Station resident Bernie McKeever (Gonzaga).
Virginia will have their second open practice on April 6 and their spring game at 2 p.m. on April 12.