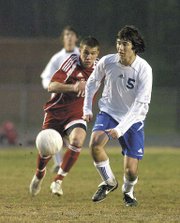 Pulling off a boys' soccer upset win might have been too much to ask for in regards to the undermanned South Lakes team when it took on local rival Herndon on Monday night.
The Seahawks, while and up-and-coming program under coach Corrie Adams, could not overcome the loss of four starters to injuries in the non-district contest against the revitalized Hornets, who have dramatically turned their fortunes around this season with the return of coach Sean Lanigan at the helm of the program.
Lanigan, who led Herndon to three Northern Region titles during his first stint as head coach of the Hornets from 1996 through 2000, has the program back on track to perhaps be dominant once again. Against South Lakes, in a game played in drizzling, wet conditions, Herndon, after falling behind early by a goal, eventually put things into high gear with four first half goals on way to a resounding 5-1 win. The victory improved Herndon's record to 3-0.
Neither Lanigan nor his team seemed miffed when South Lakes senior forward Santos Cerda, one of the Seahawks' talented and electrifying players, flicked a ball into the net from close range following a corner kick opportunity to give his team a 1-0 lead three minutes into the start of play.
"No reaction," said Lanigan, realizing the goal was hardly an indicator of how the game would unfold. "It was only the third minute of the game. South Lakes came out pumped up on their home field and they were beating us to the ball."
But as the first half progressed, Herndon began to control play.
"Twelve or 15 minutes into the half, we got into a rhythm," said Lanigan.
Indeed, the Hornets did. Before the 40-minute first half was through, Herndon received two goals apiece from standouts Christian McLaughlin, a senior center midfielder, and Sean Murnane, a junior striker and transfer student from Westfield High School who has already committed to play the sport collegiately at the University of Virginia.
With a 4-1 lead at the intermission, the game's outcome appeared to be decided. And, in fact, it was. While South Lakes continued to play hard in hopes of getting back into the game in the second half, the Seahawks could not break through for any more scores. Meanwhile, Herndon, which rested all of its starters in the second half to get them rested for a Wednesday night make-up game against Falls Church, concluded the night's scoring when senior Yazen Sleem sent a scorching ball up into the net from 25 yards out with less then two minutes remaining.
The goal was the final Herndon punctuation point on a dominating showing.
"They're pretty good," said South Lakes senior defender Kyle King, of Herndon. "They've got a lot of kids going into college next year who will play Div. 1. They have a good shot at making a state [tournament] run."
<b>RECENT INJURIES</b> to several of its players left South Lakes (0-2-1) at less than full strength. As a result, the Seahawks used a number of younger, less experienced players in their starting line-up against the Hornets.
"The majority of our starters tonight had never started on the varsity before," said Adams, the South Lakes coach. "We had a lot of inexperienced players against a very improved team."
Adams said the Seahawks passed the ball better in the second half and played much better overall than it had in the first 40 minutes.
"I saw improvement in the second half," she said. "They were connecting on passes and had twice as many shots. A lot of my young guys got good experience today."
Herndon has not lost to South Lakes in a long time, and the Hornets continued to control the cross-town rivalry on Monday.
"Herndon is always a difficult game for us," said Adams. "They've dominated us the last few years."
Herndon senior defender Anatole Doak said there is still a different feeling when the Hornets play their local rivals.
"It's a huge game no matter what the records are," said Doak. "Seeing them in their blue [uniforms] gets you motivated."
Doak said the Hornets handled falling behind early well.
"They scored first and put us in a hole and there was lots of pressure," he said. "We battled back as a team. The speed of play [was the difference]."
Doak said coach Lanigan has motivated Herndon to reach new levels.
"He's been great," said Doak, a center midfielder who will be playing college ball at Cornell University next year. "He holds our team to a high standard and that's what we need."
Meanwhile, South Lakes is working hard to get better. The Seahawks, upon getting some of their starters back and healthy, will be a tough match for Liberty District opponents this season.
"We're a good team," said King. "We need to get more practice time in and mesh as a team. I think we're going to show up in district play."