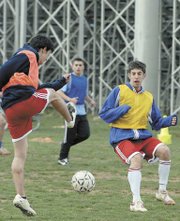 A good start to the high school boys' soccer season has the Marshall Statesmen feeling good about their prospects this spring.
Marshall, under third year head coach Ricardo Silva, is looking to improve on its final win-loss records of each of the past two years when the Statesmen went 4-8-1.
Thus far, things are going well. Marshall opened the season with a 3-0 home loss to non-district opponent Herndon, a much improved team this season under coach Sean Lanigan. But the Statesmen have since bounced back with wins over non-district foes Washington-Lee, 2-1, on March 25, and Falls Church, 4-1, last Friday night.
Against Herndon in the season opener, Marshall was going up against a team that has struggled over recent seasons. But under new coach Lanigan, the Hornets appear to be re-capturing some of there past glory. Lanigan, who led the Herndon program to Northern Region titles in 1996, '97 and '99 before stepping down following the 2000 season, has now returned for his second stint as the team's head coach.
One reason Lanigan, who works with goalies within the McLean Youth Soccer organization, returned to Herndon was because of the team's strong talent base.
Marshall got a taste of how good Herndon is last week.
"Herndon will probably be one of the teams that will be vying for the region title," said Silva, the Marshall coach. "They have soccer talent at every position. Their coach is very knowledgeable."
<b>THE WIN OVER</b> visiting Washington-Lee in its next game was a nice confidence booster for Marshall. Senior attacker/midfield striker Greg Goldbach, a team co-captain, scored two goals to lead the Statesmen.
His first goal came on a penalty kick with about 11 minutes remaining in the first half to give Marshall a 1-0 lead. Late in the first half, the Generals tied the contest at 1-1.
But in the second half with six minutes remaining, Goldbach struck again on a shot from outside the box off an assist from freshman striker Dylan Goodale. That score proved to be the game-winner for Marshall's first victory of the season.
"The game against Washington-Lee is a sign that our kids are executing," said Silva. "I look at it as a psychological win and the advancement of the kids [as a team]. It's important to be able to win a close game."
Silva said his team came to life following Goldbach's penalty kick score in the first half.
"We started off pretty slow the first 10 minutes and we were on our heels," said Silva. "That is a credit to Washington-Lee. But once we went up 1-0, we started dominating the game."
One area where Marshall has struggled in early on this season is its inability to hold teams from producing scores off of set pieces, such as corner kick tries and free kicks, around the Marshall goal area.
Several of the goals Marshall has allowed this spring have come off such plays.
"We're struggling in set pieces by other teams," said Silva. "It's just being competitive and [having the right defensive] position with our kids. We work two or three times a week [on stopping set plays] for about 45 minutes a practice."
<b>MARSHALL</b> has a number of talented players on its roster this season, including senior co-captain and defensive midfielder Brendan Stringer.
"He definitely cleans things up for us in the middle," said Silva, of Stringer. "You don't notice him that much, but he's a player you can't do without."
Another key defensive player for the Statesmen is freshman Julian Smith.
"He's got the potential to be playing beyond high school," said the coach, of the youngster. "He's adapting to the high school game. We've put him right in the mix and we did that because he has a lot of [soccer] experience. He knows how to play when the lights are on at night and people are in the stands."
Smith plays club soccer for the U-15 Arsenal.
Marshall's goalie this season is senior Wally Al-Kakan.
"He's improved by leaps and bounds," said the coach, of his net-minder.
Silva is quite pleased with the senior leadership his squad has this season in its five seniors. Those 12th graders are Goldbach, Stringer, center half Jorge Romero, defensive midfielder/center back Scott Bugby and left back Bryan Herbert.
Romero, said Silva, is an all-district caliber player.
"He's a great leader and he doesn't get beat much," said the coach. "He's a staple in our back line."
Bugby, meanwhile, excels on defense while also being a scoring threat.
"Scott is a defender and a real threat on our offensive pieces," said Silva. "He can get up into the air and has a long throw."
And Herbert is back at full strength following a serious knee injury two years ago as a sophomore. Herbert played last year, but was still overcoming the injury and trying to re-gain his confidence. This season, Herbert is proving to be all the way back.
"This year, he's come back 100 percent," said the coach. "He had a game-saving tackle midway through the first half [against W-L]."
As a team, Silva sees a confidence in his players he hasn't seen since he has been at the helm of the program.
"As a program, they're starting to believe in themselves," he said. "If they get down a goal, they have confidence they can come back. There is more team play. It's a group effect. We're finally getting everybody to buy into what we've wanted them to do the last few years. We have good role players. [As a team] we're closing the gap with the [district] contenders]."