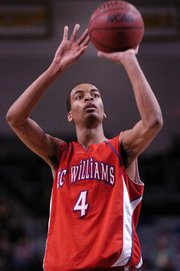 The basketball prep season might have finished, but the games involving Alexandria athletes aren't quite over. Two local showcases have announced multiple basketball players, representing two of the four Alexandria high schools.
Bishop O'Connell head coach Joe Wootten will lead the Capital All-Stars against Danny Hurley (St. Benedicts Prep, N.J.), who will coach the US All-Stars Team, in the 2008 Under Armour Capital Classic. The exhibition will be held on April 13 at the University of Maryland's Comcast Center.
There will be two games, with the first one set to start at 2:30 p.m. and both will be televised on MASN. The 35th annual game will once again feature the nation's elite seniors, which includes O'Connell's Jason Clark.
Clark will team with Gonzaga's Max Kenyi, Mount Vernon's Marquel De Lancey and future Georgetown teammate Chris Braswell on the Capital All-Stars. Their squad will be pitted against Olek Czyz (Duke), Ralph Sampson, Jr. (Minnesota) and Henry Sims (Georgetown), among others.
Episcopal 6-foot-8 center Peter Diffley took Maryland football signee Kenny Tate's spot on the District All-Stars. Tate decided to forgo the even.
O'Connell's 6-foot-10 center Frank Ben-Eze, who reportedly narrowed his recruiting list to Stanford, Pittsburgh, UCLA, Connecticut and the University of South Florida on Tuesday, was also selected to play for the District All-Stars, but will not play because of a knee injury. Diffley's team will take on the Suburban All-Stars, which includes T.C. Williams' Anthony Winbush and Annandale's Erik Etherly Springbook's Tom Crowell is set to coach the Suburban All-Stars, while Bullis' Bruce Kelley will coach the District All-Stars.
The Capital Classic, which began in 1974, has an alumni list that is headlined by Michael Jordan, Magic Johnson and Lebron James, and includes 125-plus NBA players.
The players will also participate in the Capital Classic Hoopla slam dunk and three-point shooting contests, which is set to start at 3:30 p.m. on April 11 at O'Connell.
<b>A LITTLE CLOSER</b> to home, Mount Vernon will host a basketball showcase, featuring the Northern Region's best basketball players. The first annual All-Star game, which also includes a three-point shootout and dunk contest, will start at 5:30 p.m. on March 29.
Seniors from the Patriot and Concorde Districts will be paired against seniors from the Liberty and National Districts in the all-star game. T.C. Williams head coach Ivan Thomas, a three-time Northern Region Coach of the Year will man the sidelines for the Patriot and Concorde District All-Stars, while Langley head coach Travis Hess will instruct the Liberty and National District All-Star team.
T.C. Williams' Winbush and Travis Berry will both compete in the three-point competition and all-star game. Winbush, along with Titans teammate Josh Jordan will be among 14 participants in the dunk contest.
<b>THE ALL-STATE TEAMS</b> from the Virginia Independent School Athletic Association (VISAA) were announced on Tuesday. Episcopal's Given Kalipinde recieved a Division I first-team selection, as did O'Connell's Jason Clark and Kendall Marshall.
University of North Carolina-bound forward Ed Davis of Benedictine was named the VISAA Player of the Year, while Benedictine's Sean McAloon was named the Coach of the Year.