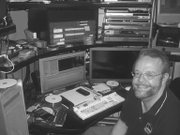 Ken Sander, a transplant from the West Coast, moved from Los Angeles to Fairfax with his family in 2001. Despite the proliferation of potholes in the road he notices each winter, Sander enjoys living in the area, he said, and chose to stay when an opportunity to move back west came in 2003. A graduate with an engineering degree from the University of California-Davis, Sander has owned a Home Video Studio (HVS) franchise in Fairfax since 2006. The Indianapolis-based company is the first and largest video service company in the U.S. Recently, Sander was named HVS' Rookie of the Year and Studio Owner of the Month, and was a keynote speaker at an advanced HVS training session.
With wife Glynis, Ken Sander has three children – Janet, 24, Kathryn, 22 and Michael, 19 – and all help out at the studio on a regular basis. Some of the services Sander's franchise specializes in are film and video transfers to DVD, duplication, editing, LP record to digital transfers, as well as production and post-production work, he said. Even though he works with video full-time, Sander likes watching a good movie. His favorite movie is "Top Gun," but he also recently saw and enjoyed "Michael Clayton."
"Excellent all around with a great surprise ending," he said.
In his free time, Sander volunteers as a lay counselor at Immanuel Bible Church in Springfield, hangs out with his family, watches football and basketball and takes trips with his wife.
How did you begin working in the videography field?
I've loved photography since I was a child. I have had a camera since I was a teenager. Right after I graduated from college, I purchased an 8mm film camera and projector. That became a new passion. Soon after that, I acquired my first video camera and have been doing video work ever since. Over the years, I've become know as the family photographer and videographer. Prior to doing this work full time, I have done projects for various family members, friends, and churches. I usually received favorable comments so I decided about two years before "retiring" from FAA that this is what I wanted to do next.
How is technology influencing the average home videographer?
I think the biggest influence is the digital age. It's been here for a while now, but people did not just jump right into it. As a result, we have so much film, video tape, photos, slides and audio tape, needing to be move over to the digital world, both to preserve those memories and to begin to use it in our archiving of our family legacy. There is so much content laying around our homes that is so susceptible to fire and water damage. Many times I think of the people in New Orleans and how they not only lost their homes and possessions, but they lost every memory and document of their family history. It is so important to get these valuable items archived to a digital media to be preserved for our future generations. Other than that, there is a continued bombardment of new and not-so-new technology hitting us every day. There are some relatively inexpensive computer and video products that entice folks to feel like they can do anything.
What makes a good home video?
Keeping it simple. Try to avoid recording the "cows returning to the barn" shots. They are too long and drawn-out. It's interesting that Sally or Johnny is learning to walk, but two hours of "walking" video gets very old very quickly. If you find that you have a lot of those types of shots, a little bit of editing will really make those home videos pop. Videographers trained to use the home video content can really help individuals and families turn those video marathons into a memorable family time video. I really enjoy helping folks in planning and developing these family time memories. Another good use of home video is to interview your family's elders, people like your grandparents or uncles and aunts. These people have stories to share about your loved ones that no one else can tell like they can. Capturing these life stories, as we call them at Home Video Studio, is a way to preserve your family's history for generations to come.