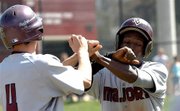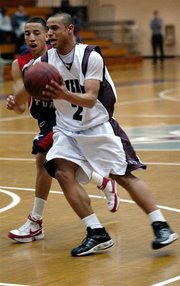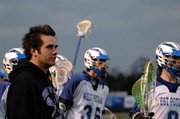 Mount Vernon second-year head coach Bill Dempkowski was plenty confident heading into the season. And six games in, it's becoming readily apparent why the algebra teacher has been bragging about his Majors, and especially their team speed.
Pending their final non-district tilt with Hylton on Wednesday, the Majors head into National District play with a 5-1 record, only three wins shy from their 2007 mark.
Mount Vernon is paced by senior centerfielder/pitcher Basil Badley, who leads the team in stolen bases (11), RBI's (seven) and innings pitched (16). In a recent 6-2 victory over Gar-Field, Badley pitched a complete game, went 3-for-4 from the plate, including two singles and a double, and scored two runs.
Also giving Majors a huge lift is senior co-captain Jack Lenske, who is batting a gaudy .769 through six games. The designated hitter totaled three hits against Gar-Field and also earlier during a 7-6 win over Freedom.
The Majors have been successful stealing 38 times in 42 attempts, are batting .312 as a team and have a 2.50 team ERA.
West Potomac head coach Jim Sullivan knew he lost the core of last year's team, but he certainly didn't such a poor start 2008. The Wolverines were on the wrong ends of 5-4 losses in two of their first three games. And after edging an upstart Lee team 11-10 in the opening day of the four-day West Potomac Invitational tournament, the Wolverines have dropped every game since.
The Wolverines are 1-7 on the season, following back-to-back district losses to West Springfield and South County. West Potomac has dropped six straight, and has allowed double-digit runs in each of the past five games.
They however have scored a combined 15 runs in the past two games and notched a season-high 11 against the Lancers on March 15.
<b>IN SOFTBALL</b>, both the Wolverines and Majors have been all over the map under first-year head coaches. West Potomac, coached by Tanya Rodman, is currently 3-4, but two of the losses have come to Westfield. The Wolverines avenged one of their other defeats, edging district foe West Springfield in 13 innings 11 days after an embarrassing 11-0 shutout. West Potomac was shut out by South County, 3-0, on Tuesday.
In their own Spring Break tournament, Mount Vernon registered a 23-4 win over Annandale and a 12-6 victory over West Springfield.
But the Majors have scored just one run in their two losses, a 1-0 decision against West Potomac to open the season and a 9-1 thrashing by W.T. Woodson in finals of the Mount Vernon tournament.
They faced Georgetown Visitation on Wednesday and will open National District play on Friday at Wakefield.
<b>IN BOYS SOCCER</b>, Mount Vernon and West Potomac were both seeking much-needed victories when the teams faced off on Tuesday.
The Wolverines, seemingly poised for a breakout season with 10 starters for first-year head coach Andrew Peck, opened the season with consecutive losses. West Potomac watched Edison freshman striker Andy Rodriguez score three goals in his first high school game, and dropped a 3-2 decision, before being upended 3-0 by Robinson.
The Wolverines, however, did bounce back in nipping Madison 1-0 on March 27.
While West Potomac is senior-laded, the Majors are sophomore-heavy, carrying 12 sophomores on the roster. Mount Vernon had a disappointing 2-12 season in 2007 under Bobby Garza, but only graduated two seniors.
<b>IN GIRLS SOCCER</b>, West Potomac won the George Washington Cup, awarded to the girls soccer team what wins the annual game between the Wolverines and Mount Vernon. West Potomac won 2-0, improving their record to 2-2 under fourth-year coach Jean Coder.
The Wolverines notched a season opening 3-1 win over Edison before dropping consecutive games to Robinson and Madison. West Potomac downed Washington-Lee and tied W.T. Woodson in scrimmages, which don't count as part of the team's overall record.
Mount Vernon is 1-2 on the year, having lost its last two games to South Lakes and West Potomac by a combined five goals. Under coach Tony Garza, the Majors carry 10 seniors.
<b>IN BASKETBALL</b>, the National District Offensive and Defensive Player of the Year Marquel De Lancey earned most valuable player honors during a recent basketball showcase hosted by Mount Vernon.
The Major senior point guard scored all of his team-high 20 points after halftime to pace his Liberty/National District All-Stars, led by Langley Coach Travis Hess, edged the Patriot/Concorde District All-Stars, led by T.C. Williams state champion Coach Ivan Thomas, 111-108, in double overtime.
West Potomac's Craig Gaylord had seven points, including one of the Concorde/Patriot's 13 treys. Annandale's Erik Etherly had a game-high 28 points, while T.C. Williams senior Anthony Winbush had 25 points without attempting a free throw.
South Lakes senior Curtis Keys defeated W.T. Woodson senior Coleman Bacon in the three-point competition, while Etherly edged South Lakes' Jay Bowman in the dunk competition.