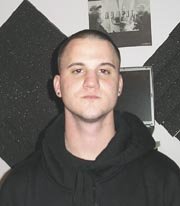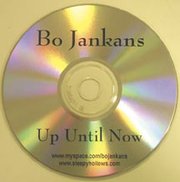 <b>Kick off your shoes, tip toe through the Hollows …</b>
THE QUIET TOWNHOUSE off Glade Drive has Lake Audubon for a backyard, and visitors are asked to take off their shoes at the front door. It doesn't seem like a place that is a hub for local hip-hop and rap artists, but appearances can indeed be deceiving. A home studio downstairs is the headquarters for Sleepy Hollows Studios, where Brett Selestay, known in most places as Bo Jankans, is honing his talent.
The house and studio belong to Neal Beggan, professionally known as Bones, who is also Jankans' manager. Bones started as a DJ in 1997 and began recording three years later. The Reston version of Sleepy Hollows is the fifth incarnation of the studio, which he said began in his bedroom in Colorado.
"This is definitely home base," Jankans said. Born, raised and still living in Herndon, Jankans stops by the Hollows a few times a week even if he isn't planning to record anything. There's a conscious family atmosphere: Bones started the studio with his brother, and their motto has been "family makes music, and music makes family."
With such an outlook, the line between manager and big brother gets blurred a little when Jankans stops by, but they're both comfortable with that. "Me and Bones just have a super relationship, he looks out for me and I look out for him," Jankans said. "He's been doing this for a long time. I'm 20, he's 30, he's got half my life on me." Jankans welcomes what he calls "life lessons" from Bones, advice and suggestions that sometimes aren't at all related to music.
But it's not just Bones and Jankans. The extended family, the whole Sleepy Hollows crew, comes together for Thursday night sessions, an amalgam of area talent. Bones said he works with about 15 to 20 people at any given time, and sometimes all of them will show up on a Thursday night. "It's everyone's favorite day of the week – Sleepy Day," he said.
The nights are without any real agenda, but frequently the group works together on a beat from Bones, and ends up in the rap equivalent of a jam session – spitting tracks that have actually ended up on a recent CD, simply titled "Thursday Night Sessions."
Working collectively each week helps strengthen the bonds between the musicians. In addition to the cooperative CD, Jankans' own first effort, "Up Until Now," released late last year, features several of his local cohorts, including K-Beta and Sketch. They have a shared experience, growing up in the area and in the rap and hip-hop scene,
"It's good people before it's good musicians," Jankans explains. "Chemistry off the mike is what helps make music great on the mike."
<b>I'm ashamed to be weak, so my pride keeps me strong
Never ashamed to be me, so I don't lie in my songs</b>
JANKANS KNOWS that his fellow artists can also be teachers. He spends time at Sleepy Hollows to see what the others are doing next, "playing the sponge" and learning from them. He said that K-Beta does a lot of his recording with many layers, and Sketch likes to amp up the volume: "he'll spit super loud," Jankans said.
Jankans' own style has a way of elevating the every day; it's keeping it real on the most basic level. He said he started rhyming when he was about 14. Recording came three years later, at 17, when he met K-Beta, who first brought him to Sleepy Hollows. Jankans said he's only been performing for about a year and is ready to do a show "any time I can grab a microphone." Upcoming shows include another stop at Jammin' Java, 227 Maple Ave. E, Vienna, where a crew will film scenes for a music video. Jankans will also be part of the area's Warped Tour in July. His music may also be featured in a TV show that's in the works – American Skater, an American Idol-type competition between skateboarders.
"I always just gravitated to music and rhythm," Jankans said. When he was younger, he listened to a lot of oldies – 50's doo-wop and 60's Motown – but discovering rap was something of a life-changing moment. "Once I crossed that line, I just never went back." The older influences haven't totally disappeared; a few tracks on "Up Until Now" have some instrumental throwbacks that could imply pastel suits and beehive hair, but are instead woven into rhymes that focus on Jankans' musical journey of self-discovery.
In his music, the Sleepy Hollows crew gets their share of references, as do Herndon, Reston and the Chantilly mall. "Bo Janks got thanks and love for the hometown," is a line from track 10, Gal Pals N Curbside Ballerz.
Jankans finds inspiration everywhere, including the corner of the Sleepy Hollows studio. "I'm looking at this fish tank – how can I make this musical?" He answers his own question, that maybe he can work out something about having the feeling of being trapped, like the fish in the tank. Jankans feels confident in his free-styling ability because he's been doing it for a while, but writing is something different. He said he tries not to force it, instead listening to beats and waiting for it to work itself out in his head. Jankans said he's fortunate that he can listen to his iPod – the "greatest invention ever" – at work, and he keeps it full of instrumental tracks that will help shape his next rhyme.
Right now, he has a part-time job with UPS, but he plans to go back to college soon. He hopes to be able to make a living through his music, but would also consider teaching high school English, after being inspired by his teacher from Herndon High School, Mr. Nelson, who has since retired.
<b>Music is life – if you're using it right, your tool is the mike
Seek truth, and keep the rest out of sight</b>
EVEN IF MUSIC ends up being his career, Jankans will be hard pressed to consider it a job. He admits there are some aspects he's not wild about, mentioning an early morning photo shoot, but still feels that is better than the alternative of a 9-to-5 office job. "I'd rather have the stress of music," he said. "This is what I'm trying to do, without a shadow of a doubt."
At 20, with one CD already finished, Jankans' main focus is on what's next. He strives for constant improvement, without coasting on the success he's already had. "I never want to hit the plateau," he said.
Jankans wants to bring something old and something new to the hip hop and rap scene in America.
Without criticizing current popular musicians, he said he's disappointed in the way the music has become overshadowed by the image. He's afraid there's a lack of individualization and true artistry.
"There's a reason some people are quick to dismiss hip hop and rap, and I can understand that," he said. The message being sent in most of the current songs, he said, glamorizes an edgy lifestyle: "guns and drugs and violence and flash and money and girls …."
Jankans already has ideas for turning this image on its head, with a song he has in mind about a serial killer – or is it a cereal killer? His idea is a dreamlike narrative where he kills the cereal cartoon characters, like Cap'n Crunch and the Trix rabbit, in strange ways. At the end of the dream, he wakes up and gets a bowl of cereal for breakfast, but can't escape karma – he faceplants into the cereal and drowns. "I'll do it funny, I'll do it artsy," he promises.
It might be appropriate that someone outside the mainstream rap world looks even further outside it for a model: Jankans recalled reading about a time Bob Dylan met the Beatles at the height of the group's popularity, and marveling at the huge captive audience the boys from Britain had. Dylan wondered why the Beatles didn't do more to push an agenda. Jankans wonders why rappers don't do the same thing today. He tries to, with every chance he gets to "grab a microphone."