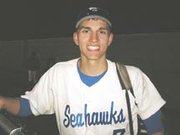 The South Lakes High baseball team ran into a red hot Stone Bridge squad when the two Liberty District opponents met last Friday night in Reston.
The experienced, talented Stone Bridge squad from Ashburn won its eighth straight game to start the season, defeating the Seahawks by shutout, 10-0. The game was shortened to five innings due to the 10-run mercy rule.
South Lakes, a relatively young team this spring, saw its record slip to 1-6 overall and 0-3 in district play.
"We need to get that first win in the district," said South Lakes coach Galvin Morris. "That might help us get going. The effort is there."
One day after beating South Lakes, Stone Bridge lost for the first time this season in a non-region game against Thomas Johnson High School of Frederick, Md. The Bulldogs lost that encounter, 5-2, to slip to 8-1.
Friday's South Lakes versus Stone Bridge game was played on a worked-over Seahawks' ball field that had been drenched as a result of the recent rain.
While most all other sporting contests in the Northern Region were postponed as a result of the poor weather, the Bulldogs and South Lakes were an exception.
Coach Morris and other South Lakes personnel did their best to get the ball diamond ready for play throughout the day on Friday. Ultimately, the contest got underway about 30 minutes past its scheduled 7 p.m. starting time. The weather, by that time, was clear and fairly pleasant and the infield dirt, while caked, was good enough to play on.
"When we first got here, I didn't think there was any way we'd play," said Stone Bridge senior shortstop Mike Stancik. "The [infield] was real slow, but we were happy to get the game in tonight. You always want to play on a Friday night."
<b>STONE BRIDGE</b> received a strong pitching outing from senior right hander Tyler Weaver, who got the complete game (5 innings) win. Weaver allowed two hits, both singles, while striking out five and walking one.
South Lakes' two hits came from freshman third baseman Will Sweet and senior catcher Scott Reed. Sweet lined a single into left field to start off the bottom of the third inning, and Reed struck a sharply-hit ground ball that took a bad hop on shortstop Stancik and went into center field in the fourth inning.
Paul Kirchner, South Lakes' starting pitcher in the game, reached base on a second inning walk.
Weaver tossed the shutout despite three Stone Bridge errors on the night. Two of those errors came in South Lakes' final at-bats in the fifth inning. As a result, the Seahawks had runners on first and third with one out and were threatening to break the shutout and extend the game into the sixth inning. But Weaver (3-0 record) struck out the next two hitters to end the game.
"He comes to pitch and has been great for us," said Stone Bridge coach Sam Plank, of his No. 1 starting pitcher. "He's not walking hitters. Our whole pitching staff has been pretty good."
Said Stancik, "He's always great at hitting his spots and he works quickly. We would run through a fence to get an out for him."
While the Stone Bridge defense committed a few errors against South Lakes, it has overall been a strong part of the team this season. The Bulldogs' infield did turn a pair of 4-6-3 double plays against the Seahawks.
"You always win with pitching and defense," said Plank. "We have a great pitching staff. It was tough with the conditions out there tonight and we played great defense. We had two double plays and that was huge and shortened innings."
Another key to Stone Bridge's success this season has been its team speed. The Bulldogs had close to 40 stolen bases through eight games. They pulled off a double steal in the fourth inning against South Lakes with Collin Pearson taking third and Michael Prince second.
<b>SOUTH LAKES'</b> Kirchner, a senior right hander, pitched well over the first two innings before struggling in the third when Stone Bridge rallied for six runs to break open what had been a 1-0 game. An error in the inning hurt Kirchner and South Lakes' cause. He also struggled with his control in the third, walking three and hitting a batter.
At one point during his start, Kirchner had struck out four batters in a row before battling the control problems after that.
"I think the defense wasn't there," said Reed, the South Lakes catcher. "I thought he did a good job tonight. His fastball had some movement on it."
Added coach Morris, "A couple of times we didn't make plays behind him. I can't blame him if he was a little frustrated."
Stone Bridge had big nights at the plate from first baseman Patrick Thompson (triple, 2 singles, 2 RBIs), leadoff hitter Pearson (2 singles, a walk and two runs) and clean-up hitter Stancik (2 doubles, 2 RBI). Other hits for the Bulldogs came from Prince (2 runs scored), left fielder Johnny Bladel (single, sac fly, walk, 2 runs), left fielder Tyler Basso (single), center fielder Matt Irwin (2-run single), DH Alec Whys (infield RBI single) and pinch-hitter JJ White (infield single).
Defensive highlights for South Lakes included left fielder Ian Hostetler throwing a runner out at the plate to end Stone Bridge's big third inning, and catcher Reed picking off a runner at first base in the fifth.
Stone Bridge, which went 17-8 a year ago and reached the district tournament finals, is a seasoned team that will likely be a region contender this year.
"We have pretty much our whole team back from last year and we know we can play," said Stancik. "Our team chemistry is probably the best it's been."
Stancik said several of the baseball team's players were members of Stone Bridge's state AAA championship football team this past fall.
"We have a lot of guys who have played together," he said.
South Lakes' Reed, who was the Seahawks' football quarterback last fall, is not about to lose heart over South Lakes' tough start to the season.
"I still think we can pull out four or five wins in the district," said Reed, who pointed out that the Seahawks played one of the district's better team's, Langley, tough in a recent 4-2 road loss.