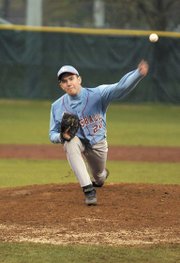 Monday night's Liberty District baseball contest between the Marshall Statesmen and Langley Saxons had all of the ingredients that make the game so special in so many peoples' eyes. It had the making of a pitcher's dual most of the way, as well as a dramatic, game-turning home run and a rousing, come-from-behind win by the home team.
At night's end, it was home team Langley that prevailed with a dramatic 4-2 victory, allowing the Saxons (6-2 overall record) to remain unbeaten in district play at 3-0. Meanwhile, hard-luck Marshall (4-4 overall record), which looked as if it was about to break into the district win column for the first time this spring, instead allowed a late lead to slip and fell to 0-3 in the Liberty.
"It's a huge win," said Langley junior catcher Geremy Mahn, who ignited Langley's comeback with a sixth inning solo home run that sailed well over the left field fence and turned the game's momentum around into the home team's favor.
<b>THE GAME'S</b> first five innings were highlighted by a classic high school pitching duel as each team's starter, for the most part, stymied opposing batters. For Langley, junior right hander Barrett Hunter, coming off a no-hitter in his previous start at Loudoun Valley nearly two weeks ago, allowed a first inning run to the Statesmen before buckling down and shutting Marshall down for the most part of the next four innings. His final line read two runs and six hits allowed over five innings of work, with two strikeouts and no walks. Hunter left the game following his five innings of work with his team trailing 2-0.
On the other side, Marshall southpaw Justin Britt was close to dominant through the first five innings, allowing no runs and four hits with four strikeouts, one walk and a hit batsman through those five frames.
Britt appeared to be on cruise control as the game moved into the late innings.
But after Langley reliever Joey Zarella, a left-hander, kept his team within 2-0 with a scoreless inning of work in the top of the sixth, the Langley bats finally came to life against Britt in the final half of the inning.
Britt started the inning with a strikeout, his fifth of the night. Then Mahn, Langley's No. 3 hitter, brought life and hope of a comeback into the Saxons' dugout when he crushed a ball that left the ball park in the blink of an eye. That homer, Mahn's first since homering against Yorktown in a Northern Region playoff game last year, pulled the home team within 2-1.
"It was in my zone, right there," said Mahn. "That was definitely the furthest I've ever hit one in my life."
From that point on, Langley began to roll. The next batter, Eddie Gonzalez, reached first on an error. Then, Langley's next three hitters—junior right fielder Chris Sievers (single), senior third baseman Michael Klein (RBI double) and junior second baseman Pete White (2-run double)—each knocked base hits.
Klein's opposite field, looping double down the right field line tied the game at 2-2 before White also went the opposite way with a two-bagger down the line that scored two more to put the Saxons ahead to stay at 4-2.
The tiring Britt then walked both Hunter and shortstop Jack Mclindon (1-for-2 on the night with a double) before getting pulled for a reliever.
But the damage had been done. Britt (5-1/3 innings, 3 earned runs) took the tough loss. Saxons' reliever Zarella (2 shutout innings, 1 hit, 3 strikeouts and a walk) earned the mound victory.
<b>AFTERWARDS</b>, Mahn credited Marshall's Britt with a fine effort.
"That guy was very good," he said. "He threw all his offspeed [pitches] for strikes."
Marshall coach Jim Julian said he elected to stay with Britt as the long sixth inning continued because the senior, along with fellow starter Greg Goldsmith, constitute Marshall's greatest pitching strength.
"Our bullpen is a little short [right now]," said Julian. "The guys we can compete [best] with are our two starters.
"Langley has a good line-up," he said. "Most of their guys are back from last year."
Marshall had a tall order the following night when it was scheduled to take on 8-1 Stone Bridge in Ashburn. Marshall will host district rival McLean this Friday night.
Langley coach Jeff Ferrell said his hitters were overly excited to produce off of Britt early in the game.
"The Britt kid is good," said Ferrell. "I knew going in it would be a battle. He's a left-hander with a change-up, fastball and curve he can throw for strikes."
Ferrell said his team was more settled at the plate against Britt later in the game.
"We were taking better at-bats," he said. "Geremy hitting the home run kind of got us going."
The coach did not want to overlook the solid outing by starting pitcher Hunter.
"Barrett threw very well," he said. "He was throwing his curve and slider better for strikes, plus he was throwing strike one [early in the count]."
Langley, in the win, received multi-hit games from Sievers (2 singles) and Klein (double, 2 singles).
It was a huge win for the Saxons.
"We wanted to win real bad," said Mahn.