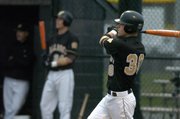 Westfield seniors Matt and Mike Snyder combined for three home runs and a whopping nine RBIs and junior pitcher Ryan Williams threw a complete-game shutout in the Bulldogs 13-0 win over Centreville on Tuesday night.
"We came out swinging," said Mike, after a game that saw the third baseman hit a two-run blast in the first inning and followed up with a three-run homer in the sixth – his third and four home runs of the season.
Matt followed up in the top of the seventh with a grand slam to deep centerfield, capping the Bulldogs' scoring on the day.
"That is always a possibility with us is that [the Snyders] are going to hit like that. It is baseball, sometimes you hit it square," said Westfield head coach Chuck Welch. "They certainly had a great night and that is always a possibility."
<b>DESPITE THE BULLDOGS'</b> quick start with Mike Snyder's two-run shot in the first, Centreville sophomore pitcher Ryan Ashoosh kept the Westfield bats cold for the next three innings, striking out four Bulldogs while allowing five hits through four innings.
The Bulldogs (6-4, 3-0 Concorde) loaded the bases in the fourth innings, but Ashoosh induced two grounders to get out of the jam.
"He threw a very good ballgame. For a young kid like that to come out and pitch like that was pretty impressive," said Centreville head coach Morgan Spencer of Ashoosh. "That kid just competes and he is going to be a very good pitcher."
After an error and a walk to start the fifth, Mike Snyder hit his second home run to give the Bulldogs a five-run cushion.
The very next batter, senior Will Vardeman, lined a ball off of Ashoosh's wrist, ending the left-handed pitcher's night.
The Bulldogs added eight more runs with two outs in the bottom of the seventh inning to put the game out of reach for the Wildcats (1-8, 0-4).
"I am not completely devastated by losing 13-0 to a cross-town rival because I know that, realistically we weren't right in the game, but we get [another out in the seventh] and it's a 5-0 score with a young group of guys," said Spencer, who fields a sophomore- and junior-heavy squad. "We are working on it and we are getting better every day. We have gotten better every time we step on the field."
<b>WILLIAMS FINISHED OUT</b> the night with eight strikeouts, while scattering three hits and walking one. To Welch, Williams was most impressive in the bottom of the seventh. Hoping to preserve the shutout, Williams struck out three-straight batters with runners on second and third and no outs.
"He just took control of the game right then and said, I'm going to keep this shutout intact and just kind of handled it all himself," said Welch.
Added Williams: "Keeping that shutout meant a lot to us."
With the win, the Bulldogs remain undefeated against Northern Region opponents despite four losses on the season.
When asked what kind of statement the Bulldogs are making with their recent success, Matt Snyder responded," We are saying that we are here to play."