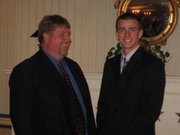 West Potomac senior wide receiver Andrew Swinson, along with four other area football players received a $1,000 scholarship from the National Football Foundation and College Hall of Fame at a celebration dinner on April 6, at Army-Navy Country Club in Arlington.
Edison wide receiver Drew Baldwin (Yale), St. Albans running back Buddy Bardenwerper, Yorktown offensive lineman Chris Dola (Middlebury), Sherwood running back Nick Koutsos and Swinson (James Madison) were awarded scholarships.
In addition, Bishop O'Connell offensive lineman Matt Dillon (Army), Hylton offensive lineman Ryan Martinez (Navy) and Bishop Ireton running back/linebacker Andrew Rodriguez (Army) were also honored, but not given scholarships because they've already been extended full grant-in-aids.
Rodriguez was selected as the overall winner. At 6-foot-3 and 220 pounds, Rodriguez gained 563 yards on 93 carries, including a team-high 6.1 yards per carry average. He shared time at tight end, where he gained a team-high 547 receiving yards. He also led the team by scoring six receiving touchdowns and four rushing touchdowns.
Meanwhile, Swinson was a three-sport athlete and a co-captain on the Wolverines football team. He hauled in four touchdowns and finished second on the team in receptions (35), yards (506) and yards per catch (14.5 yards). Swinson also swam and is currently playing lacrosse.
At the dinner, 16 athletes were recognized, with five receiving scholarships. University of Richmond football coach Mike London gave the keynote address.
The National Football Foundation (NFF) is a non-profit organization founded in 1947 by Gen. Douglas MacArthur, former Army football coach Earl Blaik and journalist Grantland Rice. The National Capital Region Chapter was established in 2005.
The NFF chapter network, comprised of 120 chapters with 12,000 members, reviews the credentials of players from more than 4,800 high schools. Each chapter then analyzes the candidates for their academic achievement, athletic performance and leadership. From there, the chapters award 2,500 student-athletes with more than $800,000 in annual scholarships.
From this group of 2,500, a national committee selects five individuals for the recognition as NFF National High School Scholar-Athletes. The NFF National High School Scholar-Athlete Award was first awarded in 1991.
As the overall winner, Rodriguez will be forwarded to the East Region for consideration at the regional level.
Yorktown's Matt Stotler was the East Region winner in 2007. The current Columbia University defensive end was honored during a December luncheon at the Waldorf-Astoria in New York City.