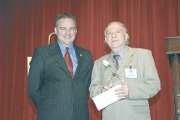 The study of physics runs in Walerian Majewski's family. After graduating with a master's of science in physics from the University of Warsaw in Poland and a Ph.D. in theoretical physics from the Polish Academy of Sciences, Majewski's first job was working as a research associate at the International Nuclear Research Institute in Dubna, Russia.
As a child, America fascinated Majewski. "There is one childhood photo of myself in our apartment against the background of a map of the United States on the wall — this was a prophetic picture," he said. He loved reading adventure stories like "Leatherstocking" and "Last of the Mohicans," but never imagined he would one day live in the United States.
The first time Majewski ever heard of Richmond, Va. was as a child, when he read Jules Verne's "The Mysterious Island," a story set in the American Civil War. He remembered this in February, when he traveled down to Richmond with his family to receive the Outstanding Faculty Award from the State Council of Higher Education for Virginia. One of 12 teachers across Virginia who received the award, Majewski began teaching at Northern Virginia Community College in 1982 and has taught the full range of physics courses for 25 years.
Majewski likes teaching because it allows him to see students grow in their understanding of physics. "I like to provide them with guidance in the study and to convey some of my fascination with the surprising efficiency of physics in explaining the world around us," said Majewski. "Several of my former students are now Ph.D. researchers, but I still remember their first appearance in my classroom and their sometimes naïve, but important, questions about workings of physics."
Majewski lives in Annandale with his wife, who is a neuroscientist and visiting distinguished professor in the European Union, and his mother, who will be 100-years old in June. His son, a Harvard Ph.D. graduate, is a U.S. Army captain and biologist. As a first-generation immigrant, Majewski spends time recording life at home and at work on video and in photos, and hopes to write his family history. He also likes collecting retro music from Russia and Poland, as well as classical music.
How and when did you become interested in physics?
My interest in physics is genetic: my father was a physicist, and both of my siblings are physics professors. I became attracted to physics in high school, reading popular physics books. One of my university professors was a post-doc and a close collaborator of Albert Einstein, telling stories about him, and we, the students, considered ourselves as Einstein's "grandchildren."
What is the one thing that people may not know but should know about physics?
Physics is not only about projectile motion or workings of a heat engine. Physics is the basis of our understanding of nature from its smallest elementary particles to the universe itself, able to discover how it began and to predict how it would end. In this sense, physics is the philosophy of nature.
Does an understanding of physics help a student in other areas of study?
Physics teaches thinking about things in an organized logical way, supported by mathematics. Physicists make good Wall Street bankers, and even good country presidents. Some training in physics can help everybody in their non-physics-related profession.
More like this story