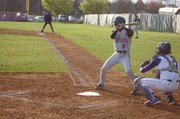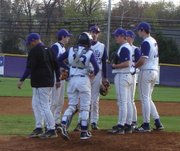 The Chantilly baseball team entered its Monday night match up against Oakton allowing just 1.7 runs per game during the team's seven-game winning streak. The Cougars, on three-game winning streak of their own, entered the game scoring double-digit runs in six of their seven contests this season. Something, as they say, had to give.
"We knew that we were going to face a good pitcher tonight, no matter who they threw out there. I knew that we would get a quality starting pitcher tonight," said Oakton head coach Scott Rowland.
As the Chargers sent Dartmouth-bound right-hander Max Langford to the mound, Rowland gathered his team together before the game and stressed discipline at the plate.
"He has a good hard breaking ball. If you swing at the one that starts at [your knees] and ends in the dirt, you are in trouble," Rowland told his squad. "If you can take that pitch, you are going to be all right tonight."
The Cougars heeded their skipper's advice, earning four walks in the first two innings off of Langford – translating into five quick runs, en route to a 10-4 win over the Chargers.
"We didn't really come out ready to play at the start. We didn't throw strikes on the mound and against a team like that, you can't not be able to throw strikes and get ahead," said Chantilly head coach Kevin Ford. "They made us pay."
Langford struggled with control throughout his short 1-2/3-inning outing, hitting two batters to go with his four walks. When the senior got behind in the count, he resorted to the fastball – something that the Cougars were waiting on.
"We knew that Langford had a good breaker. My approach was, if he misses with that, he was probably going to come with the fastball," said senior Kevin Wager, who went 3-for-4 with four RBI, including a two-run triple in the second inning. "If he would have got it over, it would have been a different story."
The Cougars totaled 11 hits off of Chantilly pitching, with seven different batters driving in runs.
"With the good teams that we have in this district, if they know a fastball is coming, they are going to hit it," said Ford.
Chantilly junior Jordan Johnson, coming off of a stellar outing against Forest Park, didn't fare much better against the hot bats off the Cougars, allowing four runs in 2 1/3 innings of work.
"When we struggle on the mound against good offensive teams, it is going to be tough for us to win," said Ford.
<b>THE COUGARS </b>(6-1, 4-1 Concorde), have won their last four games by a combined 47-12 after dropping an April 1 game to Westfield, an "eye-opening" loss that Rowland makes sure is still fresh in his squad's mind.
"I don't let them brush it off. I remind them of it," he said. "We have to play every game. We aren't good enough just to show up. Not very many high school teams are."
The loss for the Chargers (7-1, 4-1) was what Ford referred to as "our first step back in a while."
"We have been building and building and building and playing better and better," he said. "I don't know if you want to step back [right now]."