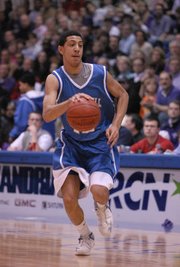 Playing a year up, Bishop O'Connell sophomore point guard Kendall Marshall helped the Boo Williams Summer League 17-and-under AAU team win a weekend tournament in Hampton, Va. over the weekend.
After displacing such teams as the Albany City Rocks, King James and Team Stat in pool play, BWSL knocked off Athletes First (Oklahoma City, Okla.), 77-69 to win the Boo Williams Invitational tournament at the newly constructed Boo Williams Sportsplex.
With T.C. Williams head coach Ivan Thomas directing the defense, Marshall helped to lead a star-studded roster to the title for the fourth consecutive year.
Marshall, who is considered to be one of the elite recruits for the class of 2010, started for the 17-under team — the same squad he played with last season. The 6-foot-3 left-hander is one of three sophomores on the team. N.C. State 6-foot-8 recruit C.J. Leslie and 6-foot-5 combo guard Andre Dawkins are the others.
"Kendall's skill level is so far ahead of most kids his age," said O'Connell head coach Joe Wootten. "I think that's what attracted Carolina."
Other players in the approximate 100-team tournament included O'Connell guard Zalmico Harmon, who plays for the BWSL 16-under team and Maurice Williams, who plays for the 16-under D.C. Blue Devils.
Former players alumni of the BWSL team include current NBA players such as Allen Iverson, Jarrett Jack and Joe Smith. All 14 players on the 17-under roster are likely to receive Division I scholarships.
While Marshall has been a marquee performer at the AAU level for some time, Wootten still wants his sophomore standout to focus on improving his game.
"I want him to play his best all the time," Wootten said. "If Kendall does that, all the scoring and all of the assists will take care of themselves."