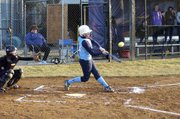 In the past four games, the Yorktown softball team has flexed its muscle as the domineering team within the National District. Consider the results.
The Patriots, led by first year head coach Al Richardson, posted a 17-0 blasting of Edison on Monday, fresh off double-digit blowouts over Wakefield, archrival Washington-Lee and Stuart — all in the past two weeks.
At Edison — who was without its best pitcher because of tendonitis — Hannah Bauman (3-1) and Annie Blaine combined to pitch Yorktown's second no-hitter of the season. Junior Olivia Merrion, who celebrated her 17th birthday, was the other star as she drilled her first-ever homerun during the rout.
Fellow junior Kristen Soroka was perfect from the plate, going 3-for-3 and collecting a game-high six RBI's. Soroka became the second Patriot in as many seasons to have six RBI's in a single game.
Senior co-captains Bree Hanafin (triple) and Lauren Wilson (double) tallied extra base hits, while several other Patriots had singles.
But the Edison blowout wasn't a mere mirage, as Yorktown had outscored its first four district opponents by a 62-0 margin, good enough for a 15.5-run average margin of victory.
<b>AGAINST STUART</b>, Hanafin, a Baylor signee and all-region selection last season, made her season debut on the mound and struck out seven batters in four scoreless innings. Merrion scooped up the save with three strikeouts over two innings.
At the plate, Hanafin also made some noise, posting a two-run homer and another two-run double. She added a sacrifice fly for a team-high five RBI's.
Lead-off hitter Kimmi Oldham, a sophomore, went 2-for-2, including a triple.
Junior Kelly McCoy also added a triple, while juniors Annie Blaine and Caroline Clements had doubles. Six more Patriots contributed base hits to hand Stuart its worst loss of the season.
A game earlier, against Washington-Lee, Bauman and Blaine combined to toss the team's no-hitter in a 16-0 rout. Granted the Generals, under first-year head coach Carolyn Majowka were without its two top players (junior catcher Amanda Enright and junior shortstop Selina Pena), but nine of Yorktown's players had hits.
The Patriots also won their National District opener with a 14-0 victory over hapless Wakefield. Under the direction of first-year head coach George Long, Wakefield managed just two hits off the pitching combination of Bauman and Merrion.
Heading into a midweek tilt at home against Mount Vernon, Yorktown is 7-1 on the season, with its lone loss occurring on March 31. The Patriots fell 3-2 to Langley at home. Langley left fielder Hannah Shatzen hit a two-run home run, but Yorktown committed four errors, which allowed the go-ahead run to score in the fifth.
After Mount Vernon, the Patriots host Falls Church before a highly anticipated home match-up with private school power Paul VI on April 21.
Yorktown lost then-head coach Ron Huling after the record-setting 2007 season, when the Patriots shared the regular season district title with Mount Vernon, but failed to make it to the district championship and bowed out to Stone Bridge, the second seed from the Liberty District in the opening round of the region tournament.
In the past four seasons, the Patriots have tallied at least 12 wins, with the highlight coming in 2005 when Yorktown set a school-record for wins, going 17-7. Prior to Hurling's arrival in 2004, the Patriots had only won double-digit games once in the previous 29 years.