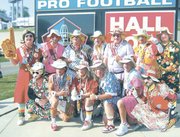 Over the past 22 years, Mara Adina Miernik has had 10 brain surgeries, all originating from a surgery when she was 5 to remove a brain tumor. Through this she and her mother, Carole Miernik, have come to learn how trying it can be on a family's life to stay with their children during their stay at the hospital. So when Mara Adina Miernik, 27, turned 18, she decided to give back by founding the Mara Adina Foundation, which provides support for families that have children who are suffering from brain tumors. On Sunday, April 20, the public can help support the foundation by attending the third annual Sterling Street Fair at the Sterling Community Center, 120 Enterprise St., Sterling from 12-4 p.m.
"What [the Mara Adina Foundation] does is pay for the expenses that nobody else pays for. People can get assistance to pay the medical part of it but you still have to go to work and pay all the other stuff. We pay rent, utilities, car and everything that needs to be paid on a daily basis so parents can stay in the hospital with their child," said Carole Miernik. "All the proceeds from the fair will really help out."
THE FAIR ITSELF was founded by Dr. Cory Malinikof, a Sterling chiropractor, as a way to bring people's attention to the health opportunities in the area, especially of the variety of alternative health-care solutions. Local health business varying from allergy doctors to the YMCA come and set up booths. Most are available for questions and give out information on getting and staying healthy. The Inova Blood Mobile will be there to collect blood donations.
"I think a lot of times these types of health options don't always seem right here. It's a way of making people aware that these services are available. And it is for promoting health. It's focusing on living healthy and eating healthy and having better health before you get sick," said Felicia Owens-Smith, the event coordinator at Celebrations Made Simple who is helping to organize the event.
It isn't all health talk though, the street fair will feature plenty of fun and games for all. In fact this is how the Mara Adina Foundation raises most of its money. Mara Adina Miernik and her mother build all their own carnival games and they will be featured at the fair, with all the proceeds going to the foundation. In addition, the fair will feature a petting zoo, face painting and a moon bounce and more. Carole Miernik points out that this is a great opportunity for children to have fun while their parents learn about family health.
"We really try to gear it towards the families. You get some education and the kids can have fun," said Owens-Smith.
THE FESTIVAL will also feature guest appearances from the Washington Redskins' Hogettes and a variety of foods including a taste of Asia section. On top of this there will be entertainment provided by area performers that ranges from singing to karate demonstrations. The main point though, both Carole Miernik and Owens-Smith, say is for residents to be able to learn what health options are out there for them and how they can stay healthy.
"It's really about how to get healthy and stay healthy. There is all kinds of new stuff out there that people just don't know about. It's important to learn all these things for your health," said Carole Miernik.