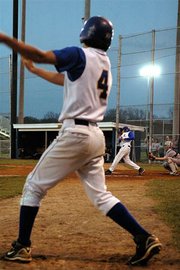 Senior right-handed pitcher Ryan Davis took in the moment. A two-run lead. Two outs. Bottom of the seventh. Tying run at second and another at third. Two strikes. Two balls.
He thought again.
A chilly night. A district road game. A three-game losing streak. Almost 100 pitches already thrown. Arm feels like rubber.
It was the typical type of situation that Lee got itself into last season. Control the game and then find a way to squander the game. That is, if the Lancers are lucky enough to even get to the seventh with a two-run lead.
Davis, one of just four seniors, had wrangled the bottom of the West Potomac batting order into two quick outs. But lead-off hitter Davey Hoen poked a ball through the first base gap for a single. And one batter later David Burns drilled a line drive for a double, signifying the game-tying run.
Baby-faced first-year head coach Brett McColley counseled his ace at the mound. McColley, the junior varsity coach the past two seasons, had two pitchers warming up, but with Tyler Lord, arguably West Potomac's best hitter, at the plate, he wasn't going to pull from his tired starter.
"I've been playing baseball since I was 3 and people have always depended on my arm," Davis said. "It's no pressure. I'm here for the team. If they need seven innings, then they'll get seven innings."
Davis forced Lord to line a rope to second baseman Greg Rafal, who bravely scooped up the shot to seal the 5-3 victory on a chilly Tuesday night.
<b>DAVIS IS ONE</b> of the few holdovers from last season's debacle. With eight seniors, and a team ready to compete in the powerful Patriot District, Lee fumbled to a 2-19 record. The Lancers managed little more than a whimper in an 8-2 thrashing in the first round of the district playoffs.
Something had to change. And it did.
McColley was brought on in late summer, and according to the few seniors, he's instilled a loose, fun culture. The players believe that the improvement in both the team's willingness to win.
"This year, we have a lot more team unity," said senior co-captain Clint Bronder, a second-team all-district selection at third base last season. "We have a lot more team chemistry. We had some individuals last year — people that played for themselves and not for the team. We communicate better and that makes us have better games."
But McColley cautions that the after-game karaoke songs and silliness aren't just fun and games.
"He's basically acted like a father to us," said Davis, who was a first-team all-district shortstop last year. "If we do something wrong, we run. If we do something right, we do something in return. The teamwork, he started that up."
<b>McCOLLEY ALSO INSTALLED</b> a new system, one meant to accentuate the team's pitching strengths and mask the lack of power in the lineup.
"He's doing a great job — definitely better than last year," said Rafal, the team's other senior co-captain. "He knows that we're not going to be blowing teams out and that we're going to have a lot of close games."
The scheme is built around a four-pitch talent like Davis, who is garnering interest from the University of Southern Maine and the University of Maine at Orono. McColley counts on Davis and his camaraderie with junior catcher Daniel Ronan. But after Davis' no-hitter in a 5-1 victory over Hayfield, which had culminated a four-game winning streak, things hadn't been so rosy.
A 17-0 embarrassment at home against West Springfield was the season low point, though a double-digit loss in the following game against Annandale didn't help soothe the bitterness.
That's why the seventh inning, and more importantly, its final result was so vital. It gave the Lancers its fifth win — almost triple last season's total. It also helped Lee position itself within the second tier of the district.
"He stopped our slide tonight," McColley said.