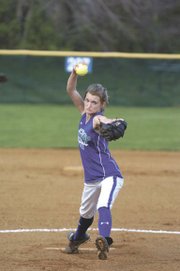 Dramatic team turnarounds in sports are not the norm. When a team has been struggling for a period of time, there is no real quick fix.
That is the case with the South Lakes High girls' softball team, which has struggled mightily to win games over recent seasons. This season, the Seahawks are under first year head coach Tino Impellizzeri, a former South Lakes assistant who has stressed game fundamentals to his squad this season.
Going into this week, South Lakes was winless. But the Seahawks have shown flashes of good play. Last Thursday in a Liberty District home game in Reston, the Seahawks played W.T. Woodson tough for several innings before falling to the Cavaliers, 15-0, in a shortened, 10-run mercy rule game that ended after six innings.
Woodson improved to 5-3 overall with the win. The Cavaliers were led by pitcher Katy Stanley, who held South Lakes to two singles while striking out seven over five innings of work. Reliever Erin O'Donnell worked a scoreless sixth inning for Woodson.
South Lakes' base hits came from clean-up hitter Chelsea Huber, who singled to left field to lead off the bottom of the second inning, and third baseman Alyssa Siqueros, the Seahawks' No. 2 batter who lined a sharp line drive single into center field to begin the fourth.
The game was scoreless after two innings before Woodson tallied a run in the top of the third when Alex Winters lined an RBI double down the left field line. Winters, the Cavaliers' third baseman, finished the game with four hits, including two doubles, a walk and four RBIs.
Woodson added another run in the fourth when Winters knocked an RBI single down the left field line. South Lakes' defense, on the base hit, made a heads-up play by throwing out a Woodson base runner trying to get to third. Catcher Taylor Thompson, after catching a cutoff throw from the outfielder, quickly zipped the ball to third baseman Siqueros for the put-out at third to end the inning. But the Woodson run counted and the Cavaliers led 2-0.
Through four innings, the score remained 2-0.
<b>SOUTH LAKES</b> pitcher Jordan Foster, meanwhile, was doing a good job on the mound to keep the Cavaliers' offense at bay. Through the first three innings, Foster allowed five hits but just one run.
But in a scary moment, Foster was struck by a line drive off the bat of Woodson leadoff hitter Tara Leeth to begin the third inning. The ball appeared to hit the pitcher on the side of the head before bouncing into right field for a single. The game was stopped as Foster was attended to. Ice was applied to her head. For several minutes, she stood near the third base coaching box area collecting herself. She, surprisingly, initially stayed in the game. Following three warm-up pitches, the game was ready to resume. But before so, the South Lakes public address announcer encouraged the crowd to give the tough pitcher some cheers when he said, "A big South Lakes applause for Jordan Foster, everybody."
On the first pitch after that, Winters knocked her RBI double to break the scoreless tie. But Foster then retired three of the next four hitters to get out of the inning with no more runs allowed.
Foster was scheduled to lead off the bottom of the third inning for South Lakes, but by that time a team trainer had decided that she should not continue to play.
So a pinch-hitter, Bridget Mueller, batted for Foster. Mueller earned a walk, but the Seahawks could not bring her around to score.
When South Lakes took the field again, the new pitcher was Katy Impellizzeri, who moved from shortstop to the pitchers' mound. Impellizzeri did a good job upon taking over the mound duties, allowing a single run in the fourth.
But after that Woodson broke the game open with a four-run fifth inning and a nine-run sixth.
<b>THE SEAHAWKS</b> were was without coach Impellizzeri, who was in Sicily, Italy due to a family matter. The coach was scheduled to return on April 18. South Lakes assistant coach John Lyons has been running the team in coach Impellizzeri's absence. Lyons said the Seahawks are remaining upbeat despite struggling in the win-loss column, temporarily being without their head coach and enduring strange injuries like the line drive that hit Foster.
"They're staying pretty positive about the whole thing," said Lyons. "That was a fluke thing with Jordan getting hit in the head."
Lyons said South Lakes is playing better as a unit.
"They are starting to play as a team and they are cheering each other on," he said. "This is a growing year."
Lyons has been pleased with South Lakes' solid defensive play. The Seahawks committed just two errors in the loss to Woodson. Terrific plays were turned in by Katy Impellizzeri at shortstop, and by first baseman/shortstop Huber, who took over at short when Impellizzeri took the hill. The South Lakes outfielders made all of the routine plays.
"Our outfielders have been phenomenal, really," said Lyons.
<b>WOODSON</b> was coming off a 15-3 loss to Langley, a game in which it had led 3-0 before the Saxons came back and won big. Against South Lakes, the Cavaliers hit the ball well, collecting 15 hits. Along with Winters' four-hit game, other Cavaliers having outstanding games at the plate were Rachel Keung (double, single), Chris Hargrove (double, single), Shannon McCloud (double, 2 singles) and Leeth (2 hits).
"We didn't have the greatest game against Langley, so personally, I wanted to come back strong [against South Lakes], especially after a loss like that," said Hargrove, Woodson's center fielder who scored three runs.
The Cavaliers are a fairly young squad this spring.
"We've been up and down," said Woodson coach Bob Coleman. "We're young, so that's to be expected. I think we're going to get better as the season goes on."
Woodson's team captains are Hargrove, a senior, and juniors Keung, Winters and Leeth.
"We're getting a lot better," said Hargrove. "I think we can be very good. We have a lot of great players."
Woodson and South Lakes are scheduled to meet again this Friday at Woodson in Fairfax, a contest which will kickoff the second half of the district schedule.