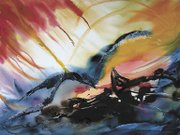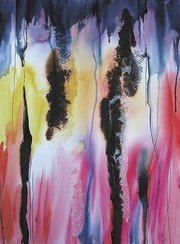 Springfield artist Anabela Ferguson uses the word "prolific" to describe herself and her art. Painting is something of a family business for her; both her grandparents were artists. Her paintings — large and small, traditional and abstract, light and dark — run the gamut. Currently, she is displaying her work at Huntsman Square Shopping Center, 7500 Huntsman Blvd., Springfield. The exhibit is up through Sunday, April 20, and available Monday-Friday, 10:30 a.m.-6 p.m.; Saturday, 9 a.m.-6 p.m. and Sunday, 12-5 p.m. In July, Ferguson will be exhibiting at the Kingstowne Library, 6500 Landsdowne Centre, Alexandria. For more on the artist, visit www.anabela-artist.com.
<b>Where are you from originally? Where are you living now?
</b>Originally born and raised in Chile, I've lived here for 28 years. I have lived in Springfield for 21 years, before that in Arlington.
<b>Who are your major artistic influences?
</b>Actually, I don't have particularly anybody. I think I just like the old impressionist artists. I don't have a particular person who has influenced me.
<b>What do you do when you aren't working on your art?
</b>Marketing myself.
<b>When did you first get inspired to create art? Did you always know that you wanted to be an artist?
</b>I have always had art. I actually painted my first nude in first grade. My grandfather and grandmother were both artists. I have done very well for the past nine years since I opened my business. I liked doing it, I didn't know you could do it for a living.
<b>Where do you do most of your work?
</b>I have a home studio in Springfield.
<b>What do you listen to when you work? Is it reflected in the work you create?
</b>Classical and jazz, most certainly.
<b>Favorite medium to use and why?
</b>I like watercolors. They move fast, as fast as I paint. I like to move fast in my paper and my canvases.
<b>What would you consider the theme of the exhibit?
</b>I would say "prolific." I have a very large variety of pieces, from long, skinny landscapes to large, large canvases and oils. I do abstracts, traditionals, still life.
<b>What do you hope viewers get out of the show?
</b>I'm not really sure – enjoying themselves, learn that some artists can involve and to take some pieces home, of course.
<b>Do you have a favorite piece in the exhibit?
</b>They're all my favorites.