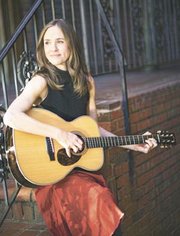 Lantana is a plant found many places in the southeastern United States. Often it is part of a landscaped yard but sometimes the plants grow wild, wander from their original roots and strike out to find new or more fertile ground. Musician Caroline Herring started out playing piano, began singing soon after, and then wandered to more instruments – flute, guitar – and different choirs. So it seems appropriate that her newest CD, her third, is called Lantana. She returns to her old stomping grounds, Jammin' Java, 227 Maple Ave. E, Vienna, for a CD release party Friday, April 18. Tickets are $12. Call 703-255-1566 or visit www.jamminjava.com.
<b>Introduce yourself and the band:
</b>My name is Caroline Herring, I live in Atlanta, Ga. and have three commercial releases. My newest is called Lantana, and it's on the Signature Sounds Label. I will be playing solo, which I do mostly these days because I tell a lot of stories to explain my songs.
<b>When did you start playing and performing music?
</b>I started playing music at a young age: piano age four, choir age six. I played in the high school band (flute) and the church choir and choirs in college. However, I didn't start playing guitar and singing folk music & bluegrass until after college.
<b>Any local connections to Northern Virginia?
</b>I lived in Washington D.C. (Capitol Hill, 12th and D southeast) during my first year of marriage. My husband had a post-doc at George Mason. I played at Jammin' Java many times that year.
<b>Describe your sound:
</b>My sound is country folk. That is, folk music with a distinctive country influence. I like to use traditional sounds and write about contemporary themes.
<b>Biggest musical influences:
</b>Ah, there are many. Emmylou Harris, Lucinda Williams, The Carter Family, Kate Wolf, Nanci Griffith, Sarah Vaughn.
<b>Latest addition to your iPod:
</b>Eilen Jewell's Boundary Country, Peter Mulvey's Kitchen Radio, and Martha Scanlan's The West Was Burning. All of these are amazing albums.
<b>What is the equation for a good show?
</b>Diversity. I play alone and sometimes a girl (or guy) with a guitar can get boring. Thankfully, I have a variety of different types of songs, and stories to tell.
<b>Anything special about the upcoming show?
</b>Absolutely. I have my first new album out in over five years. I am so proud of it, it's getting great reviews. Also, I have two small children, and have been off the road a good bit. So it's really nice to get out some and play music, something I truly love to do.
<b>Where can fans find out more about you?
</b>Go to my website at www.carolineherring.com, or my myspace page. Also, there is lots of info on me at www.signaturesounds.com, my wonderful Web site.
More like this story