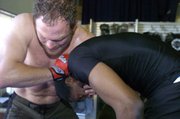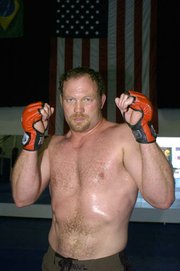 Johnny Curtis pulls up to One Spirit Martial Arts in Herndon on an oversized motorcycle. His intimidating 6-foot-3, 135 pound frame, clad in jeans and work boots, steps off of his growling chopper. As he cuts the engine, the music that he was blasting on the ride over – contemporary Christian rock – fills the parking lot.
Curtis, 37, a former All-American wrestler, has spent the majority of his life training his body for physical competition. As he changes into his workout attire on this Thursday afternoon – shorts, sparing gloves and not much else – it's with a familiarity that one would have while preparing for work in the morning.
"I don't have a problem being physical with somebody, but I have never been the guy to say, 'I hate this guy. I'm gonna kill him.' For me, it is just a competition. A physical chess match," said Curtis as he throws punches into the air as if to emphasis his point. "We knew what we are getting into when we get out there. He has his strategy and I have my strategy and we are going to see which one comes out on top."
Curtis is preparing for his upcoming professional mixed martial arts cage-fighting bout on Saturday, April 23, at the Patriot Center at George Mason University as part of the 10-bout UWC Invasion card.
A promotional poster is posted on the door of One Spirit. Curtis, in only his second professional fight, is given second billing.
It's easy to see the draw that Curtis would have in this area. A Fairfax High School and GMU graduate, Curtis is heavily involved in the community. His business, Freedom Tree Service, operates throughout Northern Virginia and he is an active member of Capital Baptist Church in Annandale.
"[This] is my home town and it is where I have the most worth," he said.
<b>CURTIS ENTERED</b> Fairfax High School in 1984 with no intention of joining the wrestling team. The youngest of four children, Curtis' older sister was a student of Fairfax head wrestling coach Mitch Sutterfield and she convinced their older brother to join the team.
"When he first got into it, it didn't seem too attractive to me," said Curtis. That was until Curtis had his first one-on-one meeting with Sutterfield.
"If you want to get on point 'A' from point 'B' on land, take a car. From point 'A' to point 'B' on water, take a boat," Curtis remembers Sutterfield telling him about track and swimming. "But if you need to kick somebody's ass, you need to wrestle. When I'm through with you, you will be walking around with money hanging out of your pocket, daring people to take it."
Curtis was sold.
By the time he was a senior, wrestling ruled Curtis' life. The then 176-pounder wore a necklace that said "Johnny Curtis: Virginia State Champion 1988. A poster on his wall said the same thing.
"You kind of have to have a positive attitude and a positive focus. But it can go overboard," he said. "Gold would symbolize first place. If I was walking down the hall and I saw a piece of a gold candy wrapper, I would bend down and pick it up. I kind of got wacky."
Curtis would never lay on his back, even when he was sleeping.
"If I had to sleep on my back, I would put a hand under my shoulder blades, so I wasn't getting pinned," he said.
Curtis was favored to win the state title that year, but a anterior cruciate ligament (ACL) tear in his left knee spoiled his postseason.
"He still managed to finish second in districts and second in the region with essentially one leg," said Sutterfield. "I was really impressed with his character and the way that he conquered that adversity."
The injury for Curtis, however, made him rethink his priorities.
"My faith is the most important thing in my life," he said. "At the time, I would say that, but really, wrestling kind of defined who I was. It was a good life lesson for me, at the end of my senior year, when that got taken away like that. What you building your life on? It is not on your faith. Other stuff can change like that. If it can change like that, it might not be something that you should base your life on."
Curtis' wrestling career continued at George Mason University, winning CAA Wrestler of the Year Honors in 1992 and 1993, and later, on the international circuit. He lived in Russia from 1998-99 and very nearly made the Olympic team in 2000.
This time, however, Curtis kept his priorities in check, working as a missionary for Athletes in Action during his time spent traveling the country.
During that time, Curtis also met future MMA headliners Randy Couture and Dan Henderson.
"They were obviously getting into it pretty heavy back then," said Curtis of Couture and Henderson. "It has always been in the back in my mind. I can probably do all right in this."
<b>THAT THOUGHT JUMPED</b> into the forefront of his mind last summer. Curtis began as a guest trainer at One Spirit, using his wrestling expertise to help teach takedowns and ground technique. Last August, One Spirit owner Dave Anderson asked Curtis if he would be interested in stepping into the cage.
"I talked to my wife about it. I told her it was my early midlife crisis. It was better than chasing younger women," he said. "She was surprisingly supportive."
Curtis also told Sutterfield of his plans.
"Johnny, buy a red corvette or something," Sutterfield remembers telling him. "This is just too much midlife crisis for me. You want to go out there and fight?"
Curtis began his training in August and Anderson envisioned the 37-year-old to train for six months before stepping into a cage.
"The heck with that, let's get something on the books. Let's just do it," Curtis told Anderson.
There was an amateur card that Curtis could join on Sept. 1, but Anderson thought that was too soon.
"Let's just do it," said Curtis.
Curtis began training with coach Brian Mossey. With the grappling aspect already ingrained through years of wresting, Curtis took a crash-course in striking.
"When I met him, he was a world-class wrestler," said Mossey. "I hadn't seen in my martial arts career anyone that had his level of athleticism, physical drive, ability and talent."
"[I was just] building it all off of my wrestling background," said Curtis. "With the limited amount of time that I have, I'm investing it all in here with stuff that is solely applicable to what is in the cage."
Since September, Curtis has had three amateur fights, all won with first-round submissions. In November, Curtis faced Bill Clifford in his first professional bout. Clifford, who had a 5-2 pro record coming into the fight, submitted in 1:44 seconds.
"He has those hunter-blue eyes and you are the deer in his sights," said Sutterfield. "You are his prey."
Added One Spirit manager Dan Chamberlain: "When he gets in there, he has one thing that he wants to do and that is impose his will on his opponent."
Curtis now works the training schedule around his job and home life. The proud father of four, Curtis has his priorities in order this time around.
"The main thing was the training schedule, so it didn't affect the home time with the kids," he said. "During the day, I will work my estimates around the training. The hardest time for me to train is at night. I get one night a week to come in here."
As for career goals, Curtis remains grounded.
"I am kind of like a women that wants to have a kid and she has to hurry up and try. It started off as a glorified hobby. Now, I am committed to a three to five year window. I am just taking it one fight at a time and just trying to get in as many fights as I can and see how it goes on step at a time, one fight at a time."