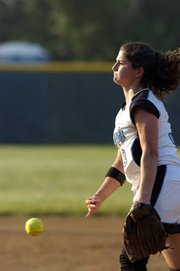 The Centreville softball team's winning streak against Northern Region opponents reach eight games on Tuesday night as the Wildcats dispatched Robinson, 7-6, in extra innings. Earlier on in the game, however, it looked as though Centreville would suffer its first loss to a region opponent this season as the Rams rallied for six runs in the fourth inning off of senior starting pitcher Brianne Pease.
"We got a little bit of a scare," said Centreville head coach Rich Ferrick.
The Wildcats came storming back in the sixth and seventh innings, tying the game with three runs in each inning. After a scoreless eighth, the Wildcats grabbed the lead for the first time in the game, 7-6, and held on for the win.
Senior Jessica Ferrick, filling in for Pease, pitched five scoreless innings to pick up the win.
"That is why I am fortunate to have two pitchers. Most teams would have had to stick it out with one [pitcher]. I think that Jessica and Brianne work well together," said Ferrick.
Robison, who fell to the Wildcats 8-1 earlier in the season, was the first team to score more than two runs on the Wildcats pitching this year. Before the Robinson game, Pease and Ferrick have combined for four shutouts and have allowed an average of one run per game.
"We have just been cruising along. We caught ourselves in one bad inning, but what I am extremely proud about is how they didn't quit. They found a way to pull it out," said Ferrick.