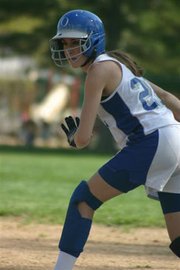 Knights have won five straight after snapping nine-year WCAC regular season reign.
<bt>For the Bishop O'Connell softball team, losing a regular season Washington Catholic Athletic Conference game probably was inevitable.
What the Knights had been avoiding for years finally happened less than two weeks ago when Paul VI beat O'Connell, 3-1, to snap a 121-game winning streak that dated back to 1999.
To make matters worse, the Knights lost another league game, this time six days after the initial loss. St. Mary's Ryken opened up a home doubleheader with a 1-0 victory.
But ever since, the Knights have reverted back to their winning ways, displacing all four opponents by a combined 33-7 margin.
In a 12-1 defeat of Holy Cross, Devon Metcalf and Sophie Giaquinto had three hits each. In the following league game, a 10-0 victory over Ireton, Colleen Carty and Jilly Falle combined to pitch a no-hitter, while Devon Metcalf was perfect at the plate, going 4-for-4. The Knights downed Forest Park, 6-4, on Monday.
Prior to the just the school's second-ever loss to Paul VI, O'Connell had strung together 44 regular season wins over the Panthers. The Knights had also tallied 11 league titles and 13 Virginia Independent School League championships since 1994.
After the initial regular season loss — its first since a late April match in 1999 — O'Connell pounded St. John's, 22-2 and 18-0, during a double header. However, in the following game, O'Connell edged public school power Centreville 1-0.
Carty pitched a five-hitter and struck out six to get the non-conference win.
The Knights host Elizabeth Seton in yet another double-header on Wednesday before non-district games at St. Stephen's & St. Agnes and Madison. O'Connell will seek revenge on Paul VI at home on May 1.
The Fairfax-based Panthers, who have won nine straight since a 3-2 loss to Georgetown Visitation, were set to face Yorktown on April 21, but the game was cancelled because of poor weather.
<b>YORKTOWN ALSO CANCELLED</b> its Tuesday tilt with rival Washington-Lee to April 24. It's about the only thing that can stop the Patriots, after a 20-5 defeat of Mount Vernon and 15-0 victory over Falls Church on April 18.
Against the second-place Majors, Yorktown scored seven runs in the bottom of the first inning, keyed by a bases loaded double by standout senior Hannah Bauman. Kristen Soroka followed up with a two-run double, while Gretchen Schnieder also drove in a run.
Yorktown also notched seven runs in the bottom of the fourth, with Stephanie Severn, Lauren Wilson and Annie Blaine all driving in runs. Wilson and Blaine had four hits apiece. Blaine also pitched, tallying her fourth win over the season with six strikeouts and one walk.
In the win over Falls Church, the Patriots continued their dominance, no-hitting the Jaguars en route to their sixth straight win. In five district games, Yorktown has outscored its opponents by a gaudy 97-5 margin.
Olivia Merrion struck out the first eight Falls Church batters, while Bauman retired three innings to team for the no-hitter.
Bree Hanifan smacked a two-run shot in the fourth inning that cleared left field fence, while Leah Patterson and Katie Sterling had three hits apiece.
Yorktown's lone loss was a late-March defeat to Langley.