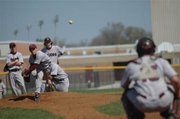 Mount Vernon's Graham Henry skied for a hard-hit Stuart line drive, enough to clear the ground and snatch the immediate put-out. Had the junior been put in the same situation last season, would he still make the play?
"Very questionable, but I don't think he would have," said Mount Vernon assistant coach Darrell Stevens, who is also doubling as the team's pseudo-strength and conditioning coach.
Since Stevens, a former Mount Vernon player, is getting his online exercise physiology degree from Troy University, he figured the baseball players would be perfect guinea pigs.
"He's developed the strength of speed behind these guys," said subdued second-year head coach Bill Dempkowski. "He's really taken that and brought it to the team. The guys have embraced it and are working hard."
Stevens oversaw a grueling off-season program that had the players doing 12-15 types of push-ups — sometimes upwards of 500 per day — while still interweaving specific muscle building, agility and conditioning training.
"I want to get to the point where everyone in the Northern Region says, 'hey, Mount Vernon is something to reckon with.'" Stevens said.
He geared exclusive workouts to players based on position, with the catchers doing lower-level leg work, while the infielders focused heavily on the short bursts conditioning. The stable of returning pitchers, including standout Basil Badley concentrated mainly on developing their legs and quads.
"The season is definitely positive because we have a lot of guys returning from last year. It's a better attitude," said Henry, who had two doubles in the same inning during a 12-4 victory over struggling Stuart on Friday. "The guys want to play — we want to win."
The off-season pain has been the Majors gain. Through the first seven games, Mount Vernon won six, including a one-run wins over West Potomac and Freedom to start the season.
"As long as we can get runners on, the [speed] is working really well," Dempkowski said. "Once they're on, we can move them around. When they're relaxed and comfortable, they do everything they're supposed to do."
<b>HOWEVER, LATELY</b>, that hasn't been the case. Though Stevens is still overseeing an in-season maintenance weight lifting program, the Majors have hit a mid-season slide. Sandwiched between a 16-3 victory over hapless Falls Church, Mount Vernon dropped games to Edison, 3-0, and league-leading Yorktown, 9-1, on April 16. Both were disappointing losses for a team that was thinking district title in the preseason.
"It's been up and down," Dempkowski said. "Some days we're good. And some days, we're a little bit off."
Last year, when the Majors went 8-13 — their lowest win total this decade. — Dempkowski said was a wash. The former junior varsity coach was given the reigns after two other coaches abruptly resigned. Coaching carousel aside, even he admits he wasn't as consistent as he needed to be as a first-year varsity coach.
"It was tough last season, but we found some positives and have carried that onto this season, which is probably due to some of our success," Badley said.
Dempkowski though has been able to rely on Badley, his premier pitching option.
"He's a smart pitcher so he's able to work a batter," Dempkowski said. "It really depends on the Northern Virginia umpire behind him. If the umpire knows how to call a breaking ball, then he knows how to work the batters really well."
Badley, whose father is also an assistant, knows that the pitching depth will be the driving force behind a late season push.
"If we want to win the district, we can't lose games we're supposed to win," Badley said. "We've got to stop giving up runs that aren't supposed to be coming up. That's been our biggest fault this year and last year."