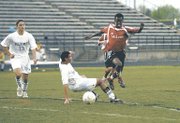 On April 22, one day after losing a 3-2, Liberty District game at Marshall High, the McLean Highlanders boys' soccer team spent an intense, 70-minute practice session emphasizing conditioning and getting re-focused for the stretch drive of the season.
McLean, following the setback to the Statesmen, had lost four of its previous six games and was just 3-6-1 on the season under first year Highlander head coach Mike Anderson and his staff.
Something had to be done. Anderson had stressed conditioning to his new club, since taking over the reigns as head coach during the offseason. But in recent games, he was seeing indications that the Highlanders were struggling late in games.
Last Wednesday's grueling practice, which included several fitness and running exercises, was a way for the coach to re-emphasize the importance of good game stamina.
The next day, McLean looked more energized and better over the latter stages of play in a hard-fought, well played scoreless overtime tie contest at non-district opponent Centreville. The Highlanders had played a good team to a stalemate, which beats a defeat any day.
"There was a tremendous amount of quality play," said Anderson, of his team's showing against the Wildcats. "We went to the drawing board [in the practice after the Marshall loss]. We spent 70 minutes running. I'm very pleased with the result. Tonight was a phenomenal performance."
McLean senior goalie Brian Ellenberger, who played a stellar game in helping hold Centreville from finding the net, said the Highlanders' tough workout session going into the Wildcats' game was indeed grueling.
"It was probably about what I imagine it like being in the Army," said the net-minder, with a chuckle. "We had five, really intense work [exercises]."
One of those cardiovascular pick-me-ups was a drill in which one team member would piggyback a teammate from the field's end line to the 50-yard mark.
Exercises like that probably made the following day's game seem easy.
"It wasn't necessarily a punishment, but more team-building," said Ellenberger.
In fact, coach Anderson did say after the Centreville game that the non-routine Wednesday practice had team-unity and cohesion in mind. He said his team had a new freshness and mindset afterwards.
"They were ready to step out there [and play]," he said. "Our fitness level is very high."
On the evening following Wednesday's cardiovascular practice workout, the McLean players had a team dinner at one of the players' houses. The Highlanders were bonding and improving their team strength, something Anderson was glad to see.
<b>MCLEAN LOOKED</b> like a refreshed team in the tie against Centreville, a game in which the Highlanders controlled play throughout most of the game.
"We just lost two in a row, but came back tonight and dominated their team," said McLean senior midfielder/forward Patrick Meagher, who was one of the game's better players over the 80 minutes of action. "It wasn't a district game. [Centreville] lost to [Northern Region power] Westfield just 1-0. I feel like we can compete with anyone."
Anderson feels the same way. While McLean was just 1-4 in district play going into this week, the coach feels quite strongly that his team can rally to finish the regular season strong and then make a quality run at the postseason district tournament title.
"This team can win the district championship, hands down," said Anderson, who realizes his team is on the cusp of becoming a contender. "Every [district] game we've had has been close. We have not played our best soccer in district play."
McLean's lone district win came over visiting Madison, 2-0, on April 3. In its district losses, the Highlanders have fallen in close games to Stone Bridge, 1-0, a vastly improved South Lakes team, 2-1, and Marshall, 3-2. The only district setback that was not close on the scoreboard was the team's 3-0 defeat at the hands of defending Virginia State AAA champion Jefferson on April 11.
The team's best non-district showing might have been a 2-2 tie at Westfield, a member of the Concorde District, on April 9.
<b>MCLEAN</b> believes that last week's solid showing against Centreville will spearhead the team into a positive direction.
"Tonight we got a result, but not quite the result we were looking for," said Ellenberger, of the deadlock with Centreville. "We had a good performance. We're looking to [still] take it up another level."
Meagher said the Highlanders have enjoyed playing under their new coach, who has demanded that they practice and compete at a high level.
"He's been a mentor to us and has helped us grow, and not just as soccer players," said the talented senior.
McLean was scheduled to host district opponent Woodson on Tuesday (April 29) of this week. Next Tuesday, the Highlanders will close out the regular season with its cross-town, district rival game against Langley. That contest will take place on May 6. The district tournament is tabbed to begin on May 12.