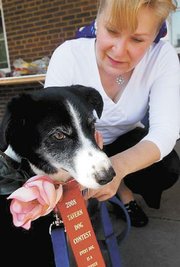 Today, at Market Square, the troops gathered to parade in review. Treats were plentiful, water abundant and the sun shown down on the four legged contestants at the 1st Annual Tavern Dog Contest. The Gadsby's Tavern Museum Society hosted this new event to raise funds for the Museum's activities. Lorrie Scattergood, the former President of the Gadbsy's Tavern Museum Society explained to me that dogs in the 18th Century were highly valuable companions. "This is a great tie into the community and we knew that the contest would create a lot of interest," said Ms. Scattergood as we gazed out at all the contestants waiting to be judged.
I arrived at Market Square just as the fourth of five flights was being called. Lead out into the judging area by Percy the Penguin, the Ice well Committee Mascot, was Holly a Border Terrier who took her place on square number one. Second call was for Nicky, a vintage silver poodle; next up trotted Quigley, a Miniature Schnauzer, to the third box. Gidget, a sassy Bischon , accompanied by her three young humans, bounced into box number four. Maximus a Cairn Terrier took the fifth spot and Baxter, the Bedlington Terrier danced into the sixth box.
Once all the contestants were in place the judges came down to meet and look over the field. All in all there was decorum, however, I did see a few of the contestants try to lick their way into favor and there were a couple who resorted to the old trick "look I'm rolling over so you can rub my tummy" ploy. The judges were not fooled by antics and were very fair in their considerations.
After this flight was judged, and the winner of flight four called, I chatted with the two judges; Lance Mallamo, the new Director of the Office of Historic Alexandria and State Senator Patsy Ticer. Next time you see Senator Ticer be sure to thank her for all she has done and is doing to protect us from puppy mills and dog breeders who want to use us as fighting dogs.
Mr. Mallamo was really happy to be a judge. He said. "This is a great community event and I hope it grows." He asked me to mention Cheryl Lawrence with the Department of Recreation, Parks and Cultural Events who made helped make this event happen. Mr. Mallamo made a point to tell me that "this is all so good and what impresses me is how many of the entries came from rescue, and they are the sweetest dogs."
Senator Ticer told me about the history of where we were standing and that George Washington trained his troops on this spot. I wonder what he would say if he had been here today? Senator Ticer said that this event was wonderful, "it reminds us that Gadbsy's Tavern is right here and that it is a very important part of Alexandria history."
She asked me if I knew that "in the 18th Century Gadsby's Tavern was the place to go for visitors and today it is still the place to go for visitors and tourists and people who live here." I asked her about the judging. "I knew that we would have a difficult time choosing; they are all so beautiful." Ticer said.
I am so impressed that Mr. Mallamo and Senator Ticer were judges. It tells me a great deal about how people feel about us animal companions.
By 3:30 p.m. 25 dogs had competed in five flights and the contest was nearly over. All that was left was to bring out the five flight winners and call a winner. I don't know how they could decide. Seamus, a black and white mixed breed (I'm thinking some setter) and the winner of flight one took his spot in position number one. Then entered Gidget, the Bischon with her three young humans into spot number two. A fancy white German Shepherd, Blitz, loved his hat, took number three box. Shantih, a Husky with piercing blue eyes was placed in spot number four and finally, Teddy, a delightful Corgi/Peke with a slight overbite took her place at box number five.
It took forever for the judges to finally decide who was going to be the winner and represent the Tavern Museum Society in The George Washington Parade and the Scottish Walk. Then it was announced – the runner up was Gidget, the darling white puffball Bischon – and the grand prize winner was announced. It was Shantih, the Husky who would be the 1st Annual Tavern Dog for the Gadsby's Tavern Museum. What a great win. I found out by talking to Shantih and his person Charlie Martel that Shantih was adopted from the Alexandria Animal Welfare League five and a half years ago. Today Shantih is a PALS trained therapy dog who enjoys going to Walter Reed Hospital to visit with the troops.