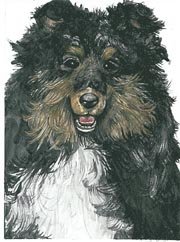 I can count on one paw the number of times that our cat, Basta, has been to the vet. Canine roommates, Mikey and Tomi, and I keep on a regular schedule for shots and check-ups, but Basta has only been to the vet a few times since early 2004, when I joined the family. Basta goes wacko when she is put into a carrier, so trips to the vet and home again are a death-defying experience. Because of the trauma and the cat scratch injuries to the humans handling her, she has not had a check up in more than two years. That is about to change thanks to an e-mail suggesting that I write about veterinarians who make house calls. The reader said that, with four little kids and a houseful of pets, she was thrilled when she found a vet who makes house calls. She thought you would appreciate information on mobile veterinary care.
A little homework revealed the American Association of Housecall and Mobile Veterinarians (www.housecallvets.org), and a Google search discovered a few vets who offer mobile services. I also found some listings on Metro Pets at www.metropets.org.
In a telephone interview, Dr. Grant Turnwald, Associate Dean for Academic Affairs at Virginia Tech in Blacksburg, Va., said that he does not have figures for the number of mobile vets in Virginia, but that the number is on the increase.
"Home call vets are not a new concept," he said. "In 1965 I was working at a clinic where I made house calls during the day."
"Home visits are a wonderful opportunity for the veterinarian and the pet owners, especially where transportation for the owner is a problem, or when the pet is very stressed by the hospital visit."
Dr. Turnwald said that one of the gifts of home veterinary care is when an animal is at the end of its life. "Euthanasia is very stressful for the pet and the owner, so when it can be done in the privacy and comfort of the home surroundings, it is made more bearable." He added that well-equipped mobile clinics themselves are an innovation.
I trotted over to meet one of our local mobile vets, Dr. Marisa Gerth, who owns Critterfixer's Mobile Veterinary Clinic. On contract with the Animal Welfare League of Alexandria, Dr. Gerth microchips adoptees before they go to their new homes, and she spays and neuters at the AWLA on Thursdays. I asked for a tour of the 24-foot mobile clinic, in which she performs surgeries. Bigger than it looks from the outside, the mobile clinic has a stainless steel operating table, resting cages, surgical lighting…everything that you would expect to find in a well stocked veterinary operating room, on a smaller scale. Dr.Gerth also has Toyota Highlander Hybrid, which she uses for most of her house calls.
Many of the doctor's home-visit clients are disabled or senior citizens; a number of them have multiple animals. It is often difficult for them to take their pets to the vet, so a home visit is the only way for their pet companions to get the health care they need.
Dr. Gerth said that emergencies are best handled at a veterinary emergency room, where there is more equipment and more staff to assist. Many of the mobile vets have clinics that they also call home or can use when they need more staff or services. I was surprised to find that the cost of a mobile vet visit is about the same as a hospital visit, and the services are the same, with the addition of a trip fee based on the distance traveled.
A house call is ideal for pets that are afraid of cars, fractious or too nervous at the vet. It is especially appropriate for senior pets or those with a poor immune system or whose health condition would make it difficult to transport to a vet.
One cat Dr. Gerth mentioned was so fractious that the owner, who had decided that treatment for her diabetes at the hospital would only cause more suffering, was considering euthanizing her pet. In her own home, the treatments went well and the cat's diabetes is now under control.
Another patient, a Chow, had been hit by a car and was afraid to get into the car for a ride to the vet. Forcing a Chow to do something they don't want to do is a lesson in futility.
Another cat was a regular terror at the vet hospital, yet with Dr. Gerth in her own home, a regular pussy cat. (Sounds like the answer for our cat Basta.)
I was really touched by the story of a beloved pet Haley who was suffering. Dr. Gerth came to the house and gave her a sedative. Haley went out in to the backyard with a bone and when she fell asleep, she was gently eased out of this life, peacefully and with dignity.
Because I write about the human/pet companion bond I was most impressed by the stories of the behavior differences in pets that are seen in their own homes. Dr. Gerth found that going to patients and seeing them in their own surroundings can make a big difference in a diagnosis. "When an owner brings a pet into the clinic their behavior is very different" Dr. Gerth said. "They are much more natural at home so I can really see what is going on." The relationship becomes a partnership between the doctor, the patient and the owner. It is more personal and less stressful for everyone.
Do you have a suggestion for a column? You can reach me through the paper at <a href=mailto:maweber@connectionnewspapers.com>maweber@connectionnewspapers.com</a>. Keep you tail high and your feet dry.
Love, Daisy Mae.