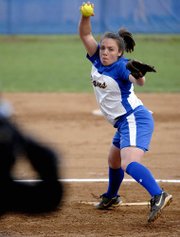 After back-to-back extra inning losses in the past week to Centreville and Herndon, the Robinson girls lacrosse team left nothing to chance against Fairfax – scoring their first five batters that stepped to the plate in the first inning, en route to an 11-4 win over the Rebels.
"It is good to get back on the winning track," said Robinson head coach Barry Gorodnick.
The Rams batted around in the first inning, sending 10 batters to the plate with the help of three errors by the Rebels' defense. Senior Erin Henning, after pitching out of jam in the top of the inning, started the scoring with a two RBI double to center, plating senior Ali Marco, who had walked on four pitches to start the inning and junior Christine Cunningham, who had reached on a bunt single. Sophomore Kathryn Lohr and Kattie Evans added RBI singles to bolster the lead.
"It just makes me so much more relaxed and I don't have to focus on being perfect," said Henning of the five-run first. "I can just trust myself."
The Rams (6-9, 3-5 Concorde) added five more runs over the next three innings to take a 10-1 lead. The Rebels came alive in the sixth inning, however, when a walk and three bloop singles gave the Rebels three runs with one out.
"Sometimes your mental focus sort of falls asleep," said Gorodnick. "We sort of struggled a little. Those are the things that we have to fix."
Henning induced a groundout and a fly ball to get out of the inning without any more damage. Marco added a solo homerun in the bottom of the inning to make the final score 11-4.
"This will help boost our energy because those last two losses were kind of hard," said Henning, who went 2-3 with two RBI and two runs scored. "Hopefully, we can carry this over into our next few games."
The Rebels' (3-8, 1-6) focus after the game was on their three-run sixth inning – and the Rams' five-run first.
"We have just been talking about not giving up. Even if we are losing by 15 runs. We have done pretty good at that," said head coach Linda Davis. "We usually have one or two bad innings a game that kills us. If we can get rid of those one or two innings, we would be fine. We would be playing a lot closer ballgames."
After the game, both coaches downplayed the final score while pointing toward the upcoming district tournament.
"In this game, it is all about the tournament. I still think that we can make a run at it," said Gorodnick.
"We could lose every game in the regular season and come back and do well in districts," said Davis. "That is really all the regular season is for – practice for districts and regionals."