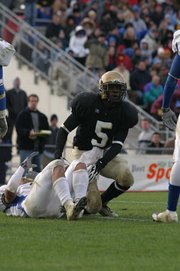 Eddie Royal expressed shock after being picked 42nd overall by the Denver Broncos in the second round of the 2008 NFL Draft. The 2004 Westfield graduate and former Virginia Tech Hokie became the first Bulldog in the program's history to make it to NFL.
"He is one of the best kick returners that I have ever seen in Northern Virginia," Westfield head coach Tom Verbanic said in 2006. "His success doesn't shock me."
Royal, who flew to Denver on Sunday to meet with the media, helped lead the Bulldogs to their first AAA Virginia State title in 2003 and continued to impress at Tech – again teaming up with former Westfield quarterback Sean Glennon to catch 33 passes for 496 yards and four touchdowns last year.
Royal's biggest strength, starting at Westfield, has been as a kick return specialist. As a Bulldogs, Royal returned 10 kicks for touchdowns in his career including one in the state championship game against Landsdown.
Royal continued to impress as a return specialist at Virginia Tech, finishing his career as Virginia Tech's career leader in punt return yardage (1,295) and averaged 15.1 yards per punt return in 2007.
Royal's stock increased after an impressive performance at the 2008 National Football League Scouting Combine in late February.
Royal placed first among wide receivers in the bench press, putting up 24 repetitions, was sixth in the 40-yard dash with a time of 4.39 seconds, was sixth in the vertical jump with a height of 36.0 inches and was a top performer at the 60-yard shuttle with a time of 11.66.
Another notable former Northern Region player, Fairfax graduate Owen Schmitt, was drafted by the Seattle Seahawks with the 163rd pick in the fifth round.
Schmitt recently finished an All-American season for the West Virginia Mountaineers in which he started 11 of 13 games at fullback, rushing 47 times for 272 yards and four touchdowns, was a top performer at the NFL Combine for running backs at the bench press, putting up 26 repetitions of 225 pounds.
More like this story