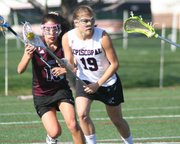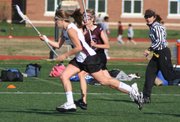 When sophomore wide receiver Hunter de Butts scored one of his many touchdowns this past football season, he became the fourth generation of his family to enter the end zone at Episcopal. At the tradition-rich boarding school, the speedy wide receiver has to follow three men with his namesake, all of whom were standouts.
But currently, the middle sibling is chasing the family spotlight from his older sister, perennial team captain Lindsey de Butts. After going winless in the upper division of the Independent School League, the three-sport senior athlete is leading the Maroon girls lacrosse team to a sudden resurgence.
"It's fun to make a name for myself," Lindsey de Butts said.
Following a 14-2 thrashing from private school power St. Stephen's & St. Agnes on April 22, Episcopal has tallied three straight wins to keep pace with Sidwell Friends atop the league standings.
"It's great that we're going out on a high note right now," said Lindsey de Butts, who is headed to Princeton next season. "We're in the lower division, so our goal right now is to win it and get back into the upper division."
The Maroon edged Maret and National Cathedral by a combined three goals, before blowing out hapless Flint Hill, 14-3, at home on Tuesday afternoon. Episcopal has just three games before the ISL Tournament, including a first-place showdown with Sidwell Friends on Friday.
<b>AFTER TRANSFERRING</b> from Richmond-based Collegiate as a sophomore, the three-sport star has been a pivotal part of the field hockey, basketball and lacrosse teams. What has been named most impressive by her senior set of coaches, though, has been her natural leadership skill. She's been named a captain in all three sports.
"She's a tremendous player and a tremendous leader," Seferiadis said. "I think the best thing about Lindsey is that she is a team player, and she makes the people around her look so much better."
While some seasons have had more success than others, she admits she is a lacrosse player first and foremost.
"She's just a smart player in terms of knowing what she is capable of when," Seferiadis said. "You want her there all over the field, but unfortunately, she can't be everywhere at the same time, but she does a pretty good job trying."
Last season, she was selected as an Academic All-American by U.S. Lacrosse and as an All-American in the Potomac region by www.laxpower.net. That was even when she hampered by multiple injuries, which sidetracked the team and probably attributed to the winless ISL record.
"I know last year, she suffered a lot of injuries and that was difficult for her because she was capable of so much more," Seferiadis said. "Her body was not putting up with it."
<b>GIVEN THE FAMILY</b> athletic legacy, the fourth generation of siblings carry lofty expectations. Though Williams H. "Boota" de Butts, who currently serves as Episcopal's chief financial officer, doesn't see it like that.
"I don't think she's felt too much pressure," said "Boota" de Butts, who lives on campus. "I think she may have felt some responsibility on her part, but she's handled it very well."
Lindsey de Butt's great-grandfather captained the football team in 1920, while her grandfather graduated in 1947. Her dad also was an excellent defensive back, getting selected to the Alexandria's 100 Greatest Athletes, a list commissioned by the City in 1999.
That's why watching Hunter de Butts, who was named to the Virginia Independent School Athletic Association all-state team as a wide receiver, was so special this past season.
"I can remember when Hunter scored his first touchdown last year," Lindsey de Butts said. "My grandfather said, 'hey, that four de Butts who have now done that.' That's pretty cool."
"Boota" de Butts went on to play freshman football at Princeton, before finishing a four-year career on the lacrosse team. As a senior, he earned honorable mention honors for the All-Ivy team. There, he also happened to meet a four-year soccer player, the former Mary Ingram, whom he wed in 1983.
It only made sense that athletics became a central focus as the children matriculated through the youth leagues.
"We've always grown up playing sports," Lindsey de Butts said on Tuesday. "My parents haven't pushed it. They've certainly encouraged me to do whatever I want to do. We just love it…sports are just part of our family."
Just like starring at Episcopal, though "Boota" de Butts certainly downplays it as a consistent family goal.
"I think we're fairly balanced about it," said the 1976 Maroon graduate. "We're not all worked up about it. If they're successful, that's wonderful, but it's going to end and it's going to end very quickly... five years from now, we'll be yesterday's news."
In a couple of months, though, Lindsey de Butts will be following a new legacy, this time trying to set herself athletically apart at yet another private school.
"She's not quite as successful as I've been," "Boota" de Butts said jokingly. "We'll just have to wait and see what happens."