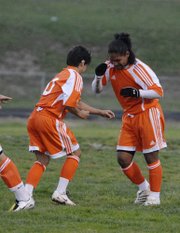 On an overcast Friday afternoon, a partisan T.C. Williams crowd lines the fence at George Washington Middle School, their home away from home. The constant chatter and periodic screams are mostly for the first-place Titans, who are locked in to a heated boys' soccer battle with struggling Hayfield.
Amid the surrounding landscape, the Metro train hums along the track as it intermittently arrives at Braddock Road, while a passenger train signals its horn on an adjacent track. In the distance, cars cross the street behind the recently renovated school and a patch of people smack softballs on another field about 100 yards away.
Yet one jet-black blur is churning his little legs from his attacking midfield position, ignoring every surrounding sound, and instead pinpointing his attention on erasing Hayfield's one-goal deficit.
It's not that Giampierre Kanashiro is tuning everything and everyone else out — it's that the senior can't hear.
Born without the ability to hear anything in his left ear and aided by a hearing aid that allows him to hear 50 percent in his right ear, Kanashiro has always had a difficult time fighting for sounds that are commonly taken for granted by everyone else.
It wasn't always so easy.
The oldest of three boys, Kanashiro, was born in Peru. By age 5, he had yet to mutter a single word in Spanish, his native language. He retook first grade, but the problem persisted.
That's when the family flew to Johns Hopkins Hospital, and received the news that Kanashiro was indeed legally deaf.
<b>BY THEN, HE LEARNED</b> to cope, choosing to detect words from people's lip movements. Spanish came easily, while English was a slower adjustment after the family immigrated to the area when he was 8.
"The only person I could trust is my brother and he couldn't really talk," said sophomore midfielder of Jamie Kanashiro. "It took us a couple of years to get used to the environment."
The relationship morphed into one where the middle brother became the go-between for the separate languages, as well having to serve as J.P Kanashiro's ears. That caused initial friction, though the pair said their bond is better now that they're getting older.
"He calls me into his room if he needs help," Jamie Kanashiro said. "He'll be like, 'I don't get this thing because it's worded weird. Then I try to explain it in the most basic way I can. I don't know sign language, so I'll use hand gestures to help him understand."
On the soccer field, though, it's different, as the barriers are much subtler.
In Peru, an uncle fostered the family's early attraction to the sport, taking them to area games. J.P. Kanashiro said he still idolizes Ronaldinho, the Brazilian sensation who's considered the world's best player.
"When he steps out here, everything goes away," said Hayfield head coach Daniel Drickey. "This is his peaceful place. Everything outside the soccer field doesn't matter when he's here."
<b>ON FRIDAY</b>, after the 3-2 loss, J.P. Kanashiro carries on a conversation with a couple of teammates. He stares intently, watching their mouths move before processing the words in his head. He speaks fluidly, though it's easy to notice his thick Spanish accent.
On this day, he's not content with the loss.
"T.C. Williams played really well," J.P. Kanashiro said. "They are intelligent and have players that know how to play the game. We've got some good players, thing is that we have too many young players this year so we're trying to work with them. Hopefully, when the district comes, we can win it."
Without senior captains Mario Rojas and Trevor Clarke, who are both currently injured, the senior attacking midfielder had had to shoulder the scoring brunt with a roster of seven sophomores and a freshman.
"J.P. is 100 percent heart, 100 percent passion and 100 percent effort," Drickey said.
J.P. Kanashiro was a first-team, all-district player as a junior. Despite the Hawks' string of one-goal losses in four of the past five district games, he has a shot at an all-region selection this season.
"He's amazingly quick," said junior goalkeeper Joey Kerns. "He's one of the anchors on our team. As soon as we get the ball to him, we know he's going to be smart with it. He's going to get it off his foot, get it to the smartest person and we're going to go from there."
The players, though, like Drickey, still have trouble communicating on the field, especially when the flashy senior is in a far corner, away from eyeshot.
"What ends up happening is that the natural human reaction is to just keep yelling louder," Drickey said. "Eventually, the guys on the field between us get the picture and one says something to one and then to another. Finally, someone close to him can get his attention."
Sometimes, the coach and teammates wonder whether J.P. Kanashiro has a touch of selective hearing, choosing only to react to things he's supposed to.
"There are times that quite frankly, I'm sure he hears me and he knows I'm screaming at him and he just won't turn around," Drickey said.
But for the fourth-year coach, J.P. Kanashiro's positives far outweigh any potential negatives.
"He is one of these kids that is a joy to coach," Drickey said. "All he wants to do is play.
As soon as we finish practice, he's out there juggling the ball. We have a late practice and he's in the weight room lifting without anyone saying anything."
Maybe he prefers it that way.