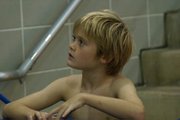 Vienna resident Grayson Campbell of the Dominion Dive Club, was the 11U three-meter champion at the USA Diving East National Championships held at Montgomery Aquatic Center in Rockville, MD this past weekend. Campbell, 10, competed against 20 of the nations best divers in his age group besting all of them on the three meter board and placing second on the one meter board.
His efforts enabled him to be the individual high point scorer for the national championships and also earned him an invitation to represent the United States in England this May at their national championships.
Campbell, who also plays Vienna football and lacrosse, practices three to five times a week at Oak Marr Recreation Center in Oakton.
"Grayson will hopefully build off of this national title allowing that to take him to future national titles eventually leading to a birth in the Olympics some years in the future," said Dominion Dive Club coach John Appleman.
With the win, Campbell joins an elite group of national champions in diving from Northern Virginia, including former Olympic gold medalist Mark Lenzi, former Olympian Matt Scoggin and Olympic hopeful Mary Yarrison.