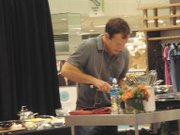 For Dave Lieberman, a passion for entertaining and cooking for his friends at college launched a culinary career that now allows him to share his passion with millions of people. He is now a personal chef, author of two cookbooks, the youngest member of Macy's Culinary Council, and host of The Food Network's "Good Deal with Dave Lieberman" and "Dave Does."
On Saturday, Aug. 2, Lieberman was at the Macy's in Fair Oaks Mall as part of The Dave Lieberman/Tools of the Trade Green & Fresh Tour. For this event, Lieberman performed an in-store demonstration of three dishes, featuring the area's locally grown and seasonal ingredients: Chilled Pea Soup with Basil Cream, Butterfish with Summer Corn Succotash and Summer Peach and Blueberry Skillet Cake."
The event included food samples for the audience as well as the opportunity to receive a personalized copy of his latest cookbook, "Dave's Dinners."
Over the past few years, Lieberman has been to 38 different Macy's promoting easy and affordable cooking methods while using quality local, sustainable ingredients. The Dave Lieberman/Tools of the Trade Green & Fresh Tour is comprised of eight more Macy's locations around the country. The program is a partnership with Tools of the Grade Belgique Stainless Cookware, Macy's exclusive cookware brand, and Edible Communities, a national organization that promotes local farm and artisan products.
Q: Who was your greatest culinary inspiration?
A: Probably my dad, because he was the one who was the cook in the family and therefore my culinary role model growing up.
Q: What inspired you to create a show in college about affordable, easy cooking? How did it lead to the show "Good Deal with Dave Lieberman" on the Food Network?
A: My friends and I got this crazy idea to do a cooking show geared towards other people at school with us and we thought the concept of good, locally sourced ingredients on a budget made the most sense. Then the New York Times wrote about what we were doing and that led to producers calling about wanting to pitch a show with me to the Food Network.
Q: Favorite aspect about working on The Food Network?
A: Having so many people use my recipes and my ideas about food is really exciting to me.
Q: Challenges?
A: Making good-looking food on television is really difficult and time-consuming, but it's worth it in the end.
Q: What motivated you to inform others about using local, fresh ingredients and sustainable cooking methods?
A: I believe that fresh, local and sustainable cooking is the only thing that makes sense for the consumer and the world. Seasonal, local food for the most part is tastier, cheaper and better for the environment and the animals we depend on for our food.
Q: What motivates you to get into the kitchen? How would you motivate others to get into the kitchen?
A: Loving good ingredients is the first step. Figuring out where to get your hands on great ingredients is the most inspirational thing a cook can do.
Q: Do you have a method for experimenting and creating hundreds of new recipes?
A: No not really. There's not much method to the madness.
Q: What is your number one tip for affordable and easy entertaining?
A: Keep it simple. Don't cook too much and choose recipes that are no more than a half a page long.
Q: How do you find yourself trying to improve as a cook?
A: Watching other good cooks cook teaches me the most. That, and just cooking myself as much as possible. It's literally trial by fire in the kitchen a lot of the times.
Q: What is your most memorable food-moment?
A: Probably sitting on the warm kitchen floor as a little kid watching my dad make dinner.
Q: Favorite kitchen tool?
A: The whisk.
Q: Favorite food to cook when you're with your family?
A: Grilled fish.
Q: How do you unwind after a long day?
A: I go for a jog if I have enough energy.