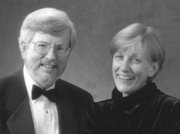 Christine and David Hagan have been studying piano since childhood, but have only started doing recitals together once they became adults. They will perform a free concert at the Rachel M. Schlesinger Center at 8 p.m.
<b>Introduce yourself or the band:</b>
We are brother and sister, both concert pianists, who enjoy doing duo recitals on either one or two pianos when we get the opportunity.
<b>How did you get your start in music and how long have you been performing?</b>
We both studied piano from childhood and have been performing all our lives, adding duo recitals together only after we became adults and lived several states apart.
<b>If applicable, How were your musicians chosen?</b>
As brother and sister you could say we were born into it.
<b>What is it that you love about performing?</b>
We really enjoy making music together and introducing people to the four-hand and two piano repertoire.
<b>What is your best memory when it comes to music?</b>
Our father, an engineer with the city of Frederick, Md., was also a musician and magician who did a lot of shows in the area. When we were children, we would often go with him to provide the musical accompaniment and sound effects, but also got very early performance experience by playing interludes as well.
<b>Where is your favorite place to play, either publicly or personally?</b>
Personally, in David's studio; he has two of the best pianos in the world. Publicly, in Jordan Hall in Boston, or really anywhere we are invited to share the music we love with people who want to listen.
<b>Best compliment about a performance?</b>
"The total was greater than the sum of its parts." "I came away feeling smarter."
<b>What is your favorite piece of music and why?</b>
For us, as for most musicians, that really depends on the day.
<b>Who would you love to play with? Why?</b>
We would have loved to play the "Mozart 2 Piano Concerto" with Carlos Kleiber conducting. He was one of the most wonderful musicians on the planet.
<b>Describe your sound:</b>
Because much of our repertoire consists of pieces originally written for orchestra and then transcribed for piano or pianos, we like our ability to produce an orchestral sound with the textures an orchestra offers. But as pianists, loving the sounds a piano makes, we like sounding like pianists.
<b>Biggest musical influences:</b>
We have both been influenced by pianists Sviatoslav Richter and Garrick Ohlsson, but there is no ignoring that our father introduced us to the musical anarchy of Spike Jones when we were young.
<b>Where have you toured?</b>
We've both played in a number places in the eastern U.S., in Germany and England. David has also performed in Panama.
<b>Anything special about the upcoming concert?</b>
"The Cuban Overture" by Gershwin is very rarely heard, which we think is a shame.
<b>Future plans:</b>
We would love to record Brahms' 2-piano arrangements of his own symphonies.
<b>What would you recommend to someone starting out in the business?</b>
Practice, but also be aware that the number of performers who make their entire living by concertizing is very, very small.
<b>Any parting thoughts?</b>
We invite you to an exciting hour of music in one of the best concert halls in the area, on one of the best pianos around.
More like this story